[Re_Map] student Henry Faulkner has created this 1:1 detail model demonstrating the variable solar shading facade concept he has designed.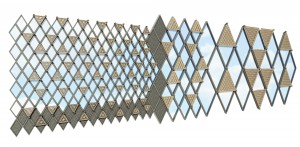 These two renders show how the facade would appear with shades open (above)and then closed (below)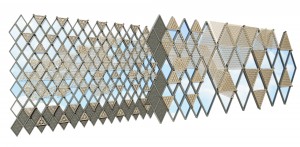 Henry describes the project for us:
The overall project has resulted in a mixed use development which aims to provide housing and an educational facility for academic refugees from around the world. The vast majority of refugees entering the UK in recent years have been from the middle east and northern Africa, from countries such as Iran, Afghanistan and Syria. Taking influence from their history and culture, I developed a facade component that adopts an Islamic geometrical pattern, using its rotational symmetry to create a dynamic solar shading device. (Henry Faulkner 2014)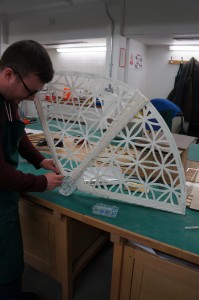 Henry cut the gearing for the model using acrylic to create the components which he had developed through test models previously. The refined design was then drawn up in cad and the component profiles laser cut – fabric included. When cutting fabric or any material you are unsure of it's always a good idea to run some tests on a scrap piece to ensure the finish you wish to achieve.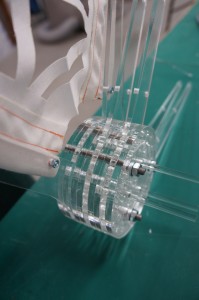 Wire was used as a former and support for the fabric 'fans' which when stretched out want to fold under their own weight.