The B.15 Workshop (Part of the School of Environment Education and Development or SEED at UoM) caters for students from the Manchester School of Architecture (MSA) – a shared school across the University of Manchester and Manchester Metropolitan University.
We offer facilities and advice for the production of scale development and presentation models for use in student projects. The workshop offers state of the art digital fabrication technology alongside core traditional manufacturing techniques.
Our aim is to continually develop our workshop to remain in line with industry standards whilst equipping our students with a good understanding of contemporary and traditional approaches to making.
As well as our main function toward MSA we offer consultancy work to the wider university and are regularly involved in projects across campus.
Short History of B.15
The workshop in its current location has been providing modelmaking advice and facilities to Architecture, Planning and Landscape students since its completion in 1970. Whilst technology has evolved since then, the workshop has always played a key role in the study of Architecture at Manchester. Originally part of the University of Manchester, the school merged with Manchester Metropolitan University Architecture Course in 1996 to form MSA. Find out more in this documentary short produced for the workshops 45th Anniversary.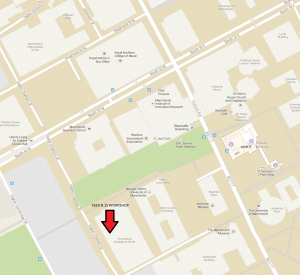 The School of Environment, Education and Development (SEED) workshop is located in the basement room B.15 of the Humanities building off Bridgeford Street on the University of Manchester Oxford Road campus.
Contact
Address:
B.15 Modelmaking Workshop
Humanities Bridgeford Street
University of Manchester
Oxford Road
Manchester
M139PL
Telephone: 0161 275 6876 or 0161 275 6853
Please note that due to the nature of our role we are very rarely at a desk to answer phone calls so leave a message and we will try to get back to you. Urgent contact can be made through the university switchboard directly to our workshop but we recommend either of the following e-mail addresses.
Email: Jim.Backhouse@manchester.ac.uk or Scott.Miller@manchester.ac.uk
Please note that CAD bookings can only be made in person although you are welcome to get in touch about machine availability or with and other questions.
General Opening Times
Monday: 09.30-13.00 (One hour Lunch Break) 14.00-16.30
Tuesday: 09.30-13.00 (One hour Lunch Break) 14.00-16.30
Wednesday: 09.30-13.00 (One hour Lunch Break) 14.00-16.30
Thursday: 09.30-13.00 (One hour Lunch Break) 14.00-16.30
Friday: 09.30-13.00 (One hour Lunch Break) 14.00-16.30
Saturday/Sunday: Closed
Refer to the General Users Guide for more detailed information.