A recent modelmaking project from MSA's MA Architecture + Urbanism course has gained media coverage in recent weeks. The Northern Quarter masterplan has taken centre stage in the window of Fred Aldous craft store. So what's the story behind this huge eye catching display? Student Dorcas Agbana kindly explained the project:
We initially had a measured drawing of Northern Quarter but the scale on paper didn't help us understand the context to its full extent. For part of our project a public consultation was scheduled at the Craft Centre and a model seemed like the best way to translate design to "reality" for the studio group and to the public.

We've learnt that physical objects are easier to grasp by laymen over technical architectural jargon and so this 3D manifestation seemed like the best way to explain our design process and showcase how our many ideas interlinked.
Working in the studio space, the model was used to get a better understanding of scale (context and individual buildings), to figure out scope of the groups design interventions. It allowed us to plug in ideas to see how they worked, how we could link different concepts into one narrative and to holistically figure out new transport routes and better identify pockets of relief.

Initially, around 20-30 members broke the whole model into smaller zones to execute it. It took around a 5 day week to get the initial model done. And then around 10 – 15 students worked for another week to prepare it for public display in Fred Aldous shop front.
Since the display was completed the feedback has been positive. We have observed people pause and stare, we've gotten comments on how to better design it for the public to understand. People who have seen and read the articles and the brochure on the studio have since made a trip to the store to check out the model. The model will stay in the window until at least the end of March, but its next home has not been decided yet.
It was an interesting experience for everyone as the scale of the model made it probably the largest one that any one of us had worked on. In the studio it  helped all the students to better work together. The process was grueling and physically exhausting towards the end, but the end product makes it worth it!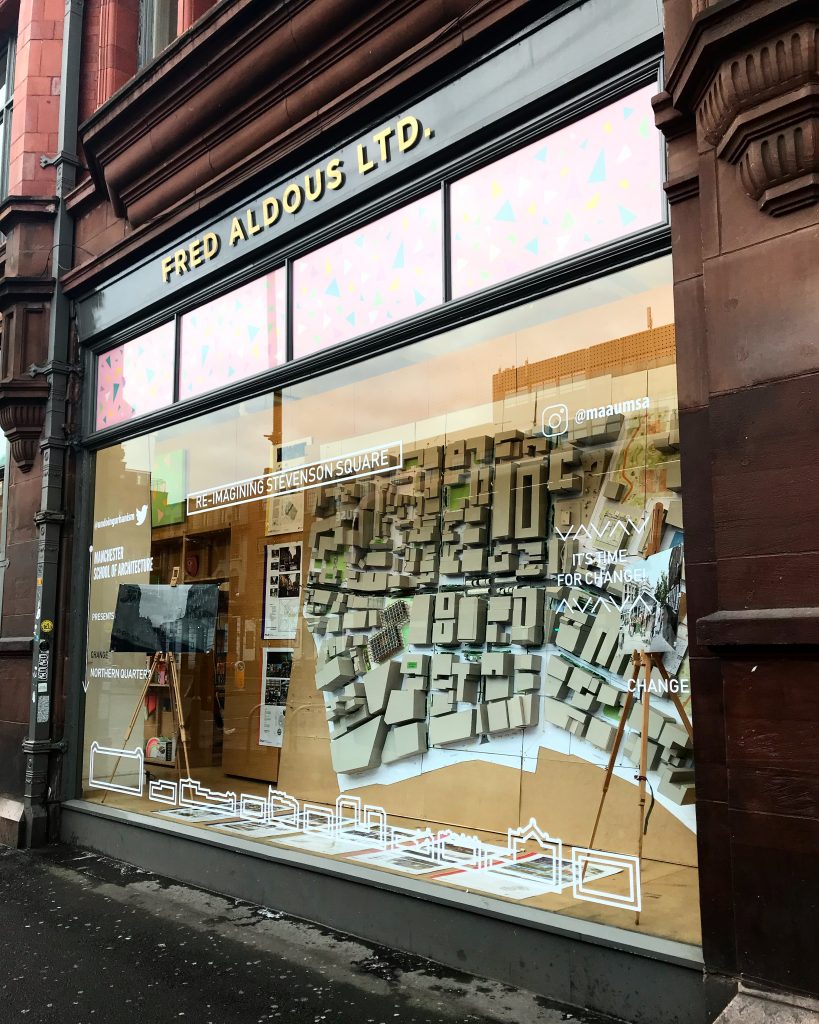 It's great to see the model being so publicly used to get people talking about the architecture and urban spaces in an area which has been subject to a number of controversial changes over the last year. Individual student proposals were published in the MEN giving the project further coverage in the region.Read the article here. 
Be sure to follow Architecture and Urbanism on their Instagram/Twitter to find out more about their ongoing projects Instagram: @maaumsa Twitter: @undoingurbanism
Thanks to Dorcas for explaining the project in more detail.
Students who worked on the model installation at Fred Aldous were: Dorcas Agbana, Priya Renganathan, Rayhane Saber, Marina Kuliasova, Bowen Zhang, Qu Zhang, Shuqian Zhou, Haochu Chen, Tian Gechuan, Dongli Huang, Tingting Miao, Yangyang Bao, Zhaozhao Zhang, Ramita Dewi Lubis, Anggita Krisnandini and Feng Daio