3rd year Coexistence in Theory has been focussing on a stalled site located next to the Mancunian way in Manchester. The group will use this abandoned infrastructure to propose new interventions that will bridge the site bringing in to back into functional use.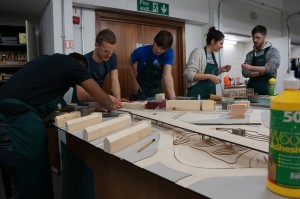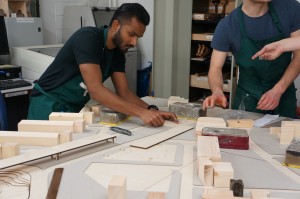 The group decided to represent a large portion of the Mancunian way which runs through the city along with building massing and defined roadways across the site. This was done by overlaying grey card board pieces to act as raised pavements creating contrast with the light coloured plywood base below which provides the road areas.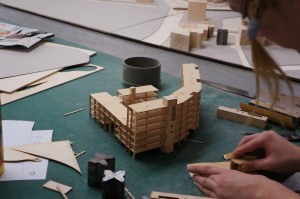 The stalled site in question is represented in more detail due to its importance and comparative skeletal appearance to the rest of the buildings in the area. This was made using laser cut ply whilst the main massing of the rest of the model is made us of blocks of pine cut and sanded to shape.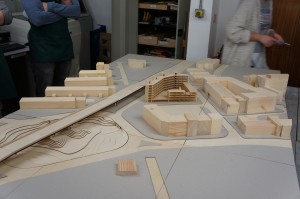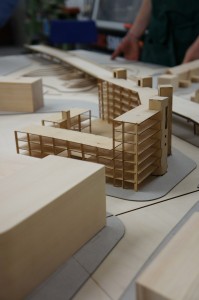 Group member Georgina Erotokritou described why the group are producing the model for their projects:
"It's the easiest and most understandable way to explain ideas, space and arrangements in 3D space. Because this model covers a wider context it is easier for the viewer to see the entire picture and see how our buildings connect to the site." 
The model is now being used as a stage to present the groups ideas as they develop throughout the year.