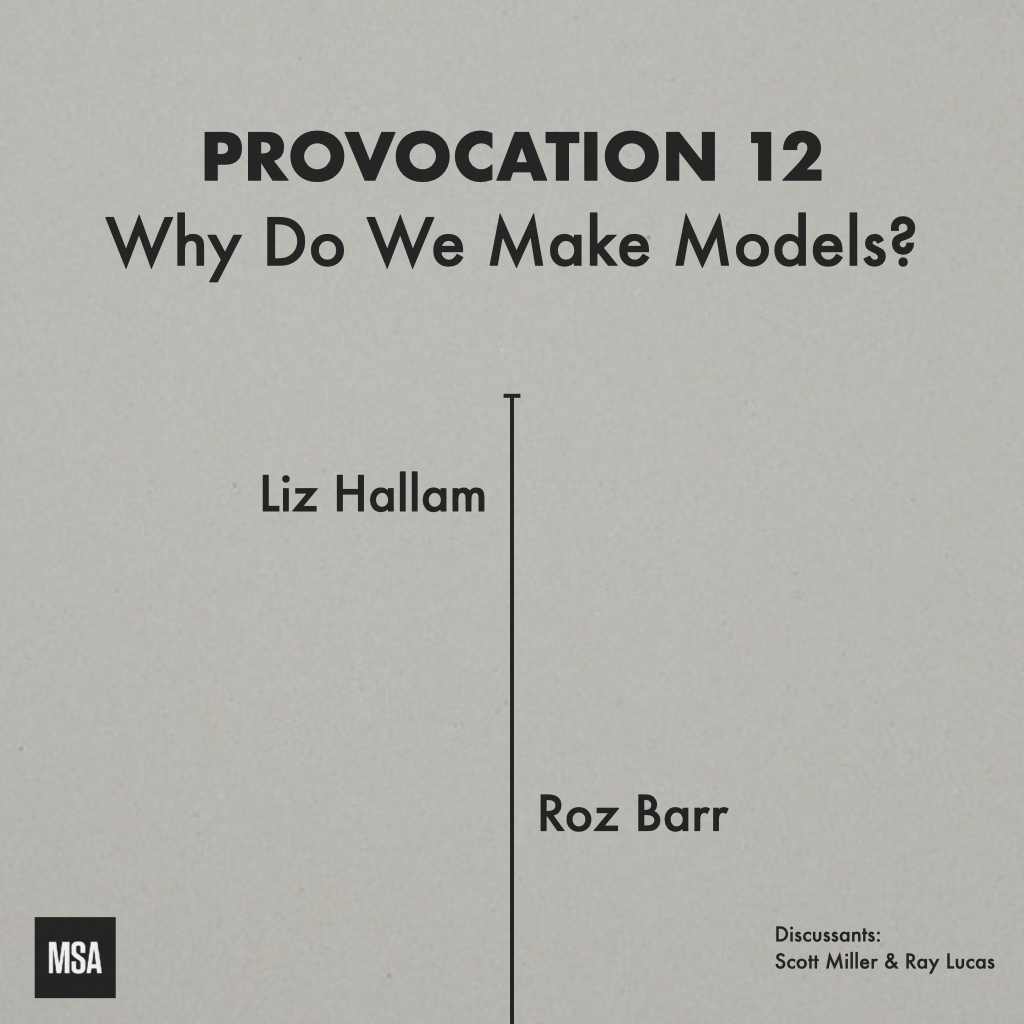 Scott will be joining the discussion for MSA Provocations 12 on March 18th 2021. Full release below:
Provocation 12 : 
Scott Miller of the B.15 Modelmaking Workshop and 

Ray

 Lucas (Head of Humanities) will be co-discussants, framing a discussion between our two speakers:
​​
Liz Hallam 
is Associate Professor in Visual, Material & Museum Anthropology and Fellow of St Peter's College, Oxford. Hallam's work focuses on the anthropology of the body and three-dimensional models, especially in medical education.
Hallam's work examines three-dimensional models of human anatomy, c.1850 to the present, especially in terms of their design, making and use in medical education. This focuses on the social relations of models, their changing materials and forms, how they are created and disseminated, and the kinds of knowledge they generate. I have explored some these of issues as a guest curator of the exhibition Designing Bodies: Models of Human Anatomy from 1945 to Now, at the Royal College of Surgeons of England (2015-16, funded by the RCS and the Henry Moore Foundation), and in a co-edited book Medical Museums: Past, Present, Future (with Sam Alberti), which brings together work by curators, researchers, and photographers in Europe and the USA.
Roz Barr 
is Director and founder of Roz Barr Architects, a London based architectural studio with a commitment to the careful crafting of architectural solutions through a process of making. We are dedicated to producing high-quality and inventive designs – not as a means of producing architectural 'statements' as such, but through a belief that the ability to produce innovative and beautiful work emerges from the interplay between content, context, and a sensitivity towards client requirements.
An in-house workshop allows us to create hand crafted models and other three dimensional material throughout the design process to explore our design ambition and demonstrate our thinking. We are a design-led practice, and we enjoy this process – a fact that is conveyed in the rigorous level of detail and research invested in all of our projects.
​Our two discussants are:
Scott Miller 
is a technician at the B.15 Modelmaking Workshop at MSA. He has worked as a freelance modelmaker on architectural, commercial and display models and in exhibition design & construction. Miller's interests lie in the preservation, theory and promotion of modelmaking in design education. 
Ray

 Lucas 
is Head of Humanities at MSA and is interested in the means by which architectural knowledge is produced; whilst most of this research is into architectural drawing, he is working on a chapter for Liz Hallam's forthcoming book 3D Modelling with Scott Miller & Jim Backhouse as co-authors.
As always, we shall convene between 17.15 and 18.30 on Thursday evening. 
Recordings of past 
Provocations
 are available at:
We look forward to seeing you there.