This first year group, also looking at the work of Louis Khan, have been looking at the un-built City Tower Project. The design was  intended to be built in Philadelphia in the 1950's but stopped after several stages of development. despite this it is still regarded as an important study and influenced future designs with its use of space frame technology. (Albani, 2013)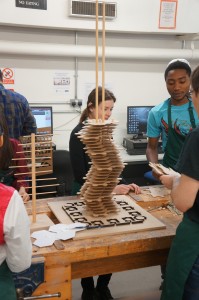 The group used laser cut floor and base plates to build the structure around central wooden dowels as the building core. The outer 'web' skin the binds the floors was represented with string threaded through pre cut holes in each plate.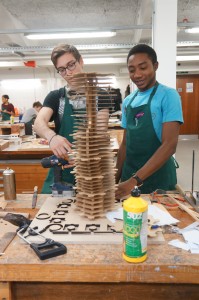 The group used our new studio space to photograph the model against a white backdrop.
As several people pointed out, the addition of scale people and cars really help to convey the size of this design to the viewer.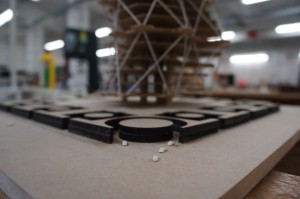 Albani, City Tower, Architects,Architecture,Architectuul, [Online Article] Available from: http://architectuul.com/architecture/city-tower , 2013