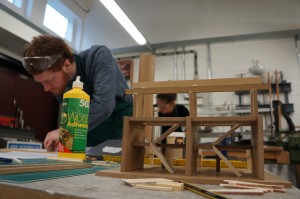 MSA Praxis student Paul Thornber produced this 'rough and ready' sketch model in just 6 hours and cost him the grand total of £0! Made entirely from waste scraps this model clearly conveys the structural arrangement of Pauls project without need for expense or time consuming methods. More importantly the process of planning, marking out and making the model has been a learning experience as Paul describes below:
"I intend to use the model to explore how structural decisions affect spatial conditions.
The model was used to help make decisions, in the development stages, regarding structure through experimentation.I was able to economise on structure through building at scale and assembling the model by hand.It also helped me prove that I understood how the buildings structural strategy worked.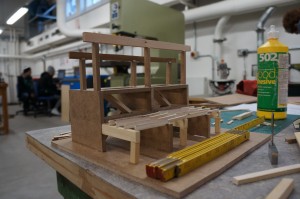 Through making this model I have learnt how to form and develop the plan of a building through a process of experimentation in both 2D and 3D.
Quickly switching from plan to section to model and back again helped me rapidly develop ideas that worked both on paper and in 3D.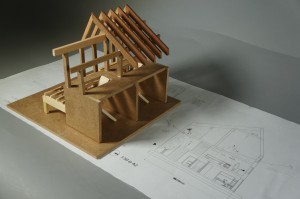 This model gave me an insight into the next stage of model making for the final output of the next project. I will now know what works and what doesn't before starting a more refined version of this model."
This is how the medium of modelmaking should be used in my opinion. By employing making as a tool to develop your ideas you are opening up yourself to technical processes, material constraints and lessons that can be directly transferred to your design decisions when working at to 1:1 scale design.
You can see more of Pauls work here:Â http://www.paulthornber.com/
Scott