******B.15:45 ENDED IN JULY 2016.*****
*****A NEW EXHIBITION WILL OPEN IN SEPTEMBER 2016!*****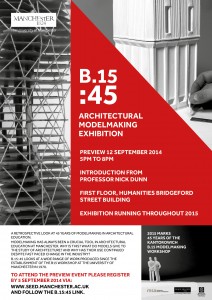 Loading Video Player….
2015 will mark 45 years since the Kantorowich (now Humanities) Building and the B.15 Modelmaking workshop opened its doors to students.
To mark this occasion we have decided to produce a retrospective exhibition to tell the story of those years and give an insight to the changes that have occurred here in terms of approaches to making and design. We will be opening up our archive to display examples of models across the last 5 decades alongside as many stories as we can compile. Whether you know it as 'The Architecture Workshop', 'Ken Peacocks Workshop', 'The Modelmaking Workshop', 'SED', 'SEED B.15' or 'Jims Workshop', B.15 holds many hundreds of memories for staff and students alike.
The exhibition will open from 12th Spetember 2014 and run throughout our 45th year, 2015. Throughout that time we will post a variety of stories and media submitted to us in the lead up to this event.
The exhibition is open to all from 09.00 until 17.00 on week days during term time.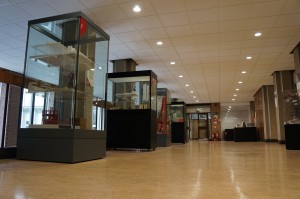 A Platform to Archive
Whilst this exhibition will present a range of making over the last 45 Years here in Manchester we would like to continue to expand our archive and record and even more in depth history of Modelmaking in Architecture. With this in mind we would like to encourage and welcome any further stories or media, physical or digital to keep expanding our heritage collections. If you have any stories, images or models from the history of the university as a whole please get in touch to help us expand our archive and heritage collection.
Please share this link with any groups or alumni that are related to the school to help us expand our archive and heritage understanding:
https://selectsurveys.humanities.manchester.ac.uk/TakeSurvey.aspx?SurveyID=92MH6l42
Many thanks for all of your support so far!
Scott and Jim