Last week we took some annual leave to go on a modelmaking road trip! We visited two main locations and so I'll split this summary into two posts. This post will cover our visit to Timothy Richards studio in Bath.
The company has become the world leader in the production of fine plaster cast architectural models for exhibition display and private commission.
Over the past few months there have been several student projects attempting to delve into the plaster casting medium to convey their ideas.Whilst we have some experience of this process we thought it would be useful to ourselves and to upcoming students to give an insight into this process commercially and how better than to visit this master of the art!
A friend of mine, Lauren Milton, with whom I graduated in Modelmaking is now working for Tim and was able to give us an extensive private tour and insight into the workings of the company.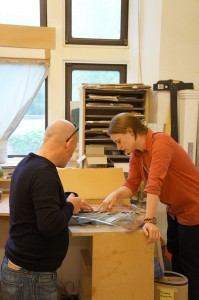 Tim's models range from complete buildings to facade's and architectural details. Many of these models are made to order as private commissions however there is a range of popular works which are kept in stock for purchase.
The method used to produce the models has been refined over time but essentially involves creating a 'master' form of the subject to take a mould from then casting in the appropriate coloured plaster which can be pigmented to suit. One of Tim's core beliefs about model building is that a model should be as similar in materiality as the building it represents. This means that all of the works produced here are cast in their final colour and therefore no paint is used on the cast surfaces. The only areas where colour may be applied is again through a 'raw finish' material such as thin sheet metal used to emboss over certain areas much as they would be in reality on roofing details etc.
Once cast, the building or facade components are assembled and any additional details such as window frames and railing are added. These details are primarily made from etched brass – a process we will cover in another post but in the mean time please ask myself or Jim for more information.  The resulting components can be made extremely fine and add a great deal of realism to these models.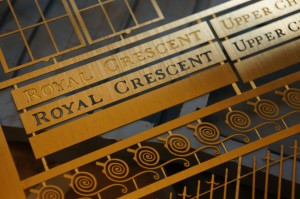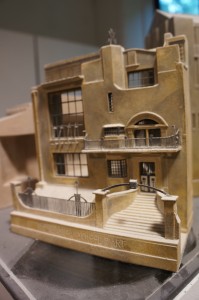 Finely sculpted elements are made by sculptors who are paid to create exact replicas of organic details on the buildings. Once complete the scaled down sculpts are cast in white metals and then added to the master models before being cast into the final model.
Tim keeps everything for future reference meaning an extensive store of past model masters and moulds. This area in particular is fascinating and shows the breadth of experience compiled through sheer number of past projects in store. This visit was truly fascinating and insightful. It may be possible for us to arrange a lecture and demonstration from Tim this coming academic year. Should this happen I can't recommend it enough!
For more on Tim's work click here: http://www.timothyrichards.com/
Outside of our workshop visit we spent some time looking around Bath looking at some of its fantastic architecture and the historic Roman Bath house. All in all a great place to visit should you get the chance!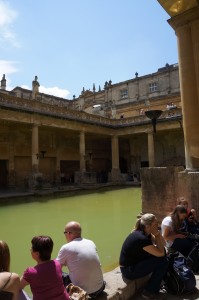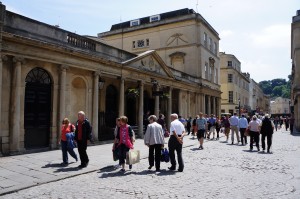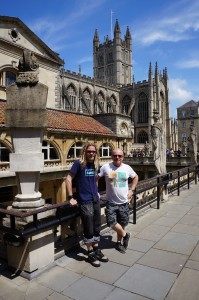 Taking from our visit we have decided to have a go at creating some plaster models of our own so we'll keep you updated on our progress with that in the coming weeks.
Scott