We're pleased to announce our first event of the new year will be the UK Premiere of WHAT WE DO HERE at Odeon Great Northern presented with supporting lecture from Hawkins\Brown Architects.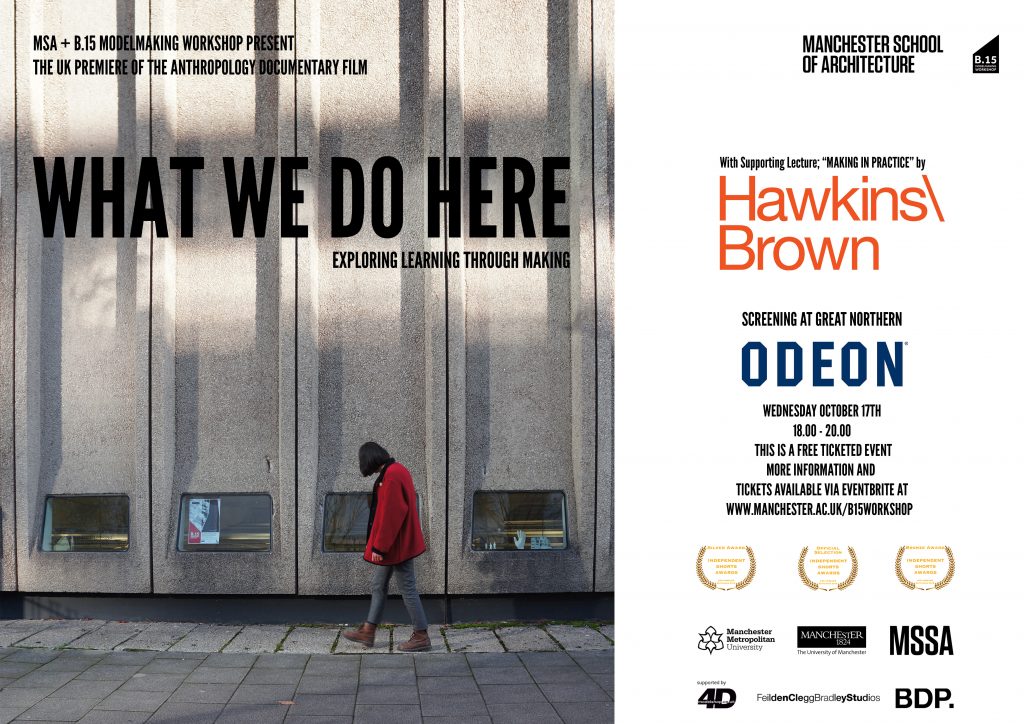 What place is there for physical hand-crafted models in the increasingly digital realm of modern architecture? How does challenging students to look beyond the screen and 'get their hands dirty' inform their understanding of and relationship with the structures they are conceiving?
WHAT WE DO HERE explores how aspiring architects at Manchester School of Architecture approach various stages of modelmaking as they grapple with materials, methods and machines to ultimately reveal the ways in which the models inform their individual growth and understanding. In addition to this it examines modelmaking pedagogy that staff integrate into their student assignments and practice through their own research projects.
Offering an additional chapter to this story, Hawkins\Brown Architects will present a post graduation insight into how practicing architects continue to use their making skills to conceive, develop and present their ideas in the the contemporary building design world.
---
The UK Premiere of WHAT WE DO HERE with supporting Lecture;
"Making in Practice" from Hawkins\Brown Architects
Wednesday October 17th 2018
18.00 – 19.00
Odeon Cinema, Great Northern
235 Deansgate
Manchester
M3 4EN
*******************REGISTRATION FOR THIS EVENT HAS NOW CLOSED*************** ************************THANKS FOR THOSE WHO ATTENDED***********************
Hope you can make it!
Jim and Scott
---
---