Following a great discussion from the judges and the winners presentation on June 26th we are excited to share the winning projects from the B.15 AT HOME Awards 2020. Click on the students name to view their submissions in full.
ALICIA DESMAY-HERNANDEZ – BA3 Continuity in Architecture
ISOBEL CURRIE – BA3 Continuity in Architecture 
LORNA LOVATT – MArch Y6 Urban Spatial Experimentation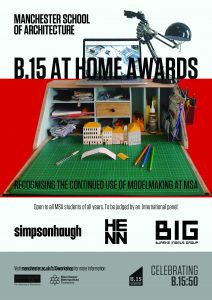 A huge thank you again to our collaborators Peter Lee & Oliver Koch at HENN Berlin, Kristin Mishra & Kaia Williams at SimpsonHaugh Manchester and Artemis Antonopoulou & Phillipa Seagrave at Bjarke Ingels Group Copenhagen.
We can't stress enough how great the submissions have been under such unusual circumstances and we'd like to congratulate everybody who submitted work. You should all be very proud of your efforts.
The full submissions document can be viewed or downloaded here.
And don't forget the full MSA Degree show will be online for the next year displaying the full range of work from across the school.
Stay safe and look after yourselves. Hope to catch up in person soon,
Jim, Scott & Saul @B15WORKSHOP