"Everyone in the office uses models. Everyone produces models all the time. It's the way the office designs and is an excellent designing tool. It's been a philosophy of Normans right from the outset."
"Its a constant battle to convince the teams to just let us build the difficult complex elements. Parts [are added] to sketch models or foam models. They work really well with hand built models. We try to avoid building big blocks of expensive material as it's a terrible waste of the technology."
– Gregor Anderson, In-House Rapid Prototyping Manager at Foster + Partners

As one of the most well known practices on the planet we were very pleased to welcome three representatives from Foster + Partners to present their insights as part of Modelmaking in the Digital Age.
Head of Modelmaking Neil Vandersteen introduced the presentation explaining and overview of the company and how modelmaking has proved a constant through changes and expansion. Ed Bartlet, Model shop CAD Support Manager explains the increased use of CAD as a starting medium that has come to begin almost all projects.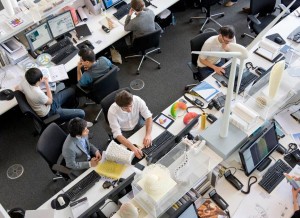 Integrating with other professions within the organisation is a common theme which continues with Gregor Anderson, Foster + Partners in-house Rapid Prototyping Manager. Gregor talks through the uses of RP and it's integration the long established modelshop. With over 50 full time modelmaking staff at Foster + Partners there is little sign of this tool disappearing anytime soon.
Loading Video Player….