Last month we were invited to attend the 30th anniversary celebrations of Mecanoo Architects in Delft, The Netherlands. As part of our visit we were able to tour the Mecanoo office and workshop and conduct interviews with their long-standing head of modelmaking, Henk Bouwer and Modelmaker Laurens Kistemaker.
Our visit was dominated by modelmaking related talk and the promise of future collaboration for our Modelmaking award scheme. We will continue to refine the scheme and Mecanoo are very enthusiastic about increased involvement with the school and award process. More updates on this soon.
The complete video interview with the Mecanoo modelmakers will be uploaded to our blog in the near future.
During the evening event Creative Director of Mecanoo, Francine Houben presented a chronology of the people the have been part of the company with their projects mentioned in throughout. The diverse staff that have come and gone from the company were clearly well thought of and many present during the presentation. Special mention of Henk Bouwers extensive and continued service highlighted the importance models play in the practice as we are well aware following our collaboration with them earlier in the year.
Some of Mecanoos key projects include the TU Delft Library, La Llotja Theatre and Conference Centre in Spain, Birmingham Library and more recently the HOME project in Manchester.
In addition to the Mecanoo insights we were able to have two separate tours of the TU Delft Faculty of Architecture. Technician Geert Coumans gave us a full tour of their workshop facility allowing for some obvious comparisons of working practice which left us reassured about our approaches to modelmaking in architectural education. The TU Delft facility has an annual intake of approximately 300 new first year students which is reflected in the size of their combined workshop and studio space. The facility was hastily designed as a result of the unfortunate fire that burnt down the previous school building in 2008. The resulting workspace is vast and lofty with workshop areas divided according to their purpose.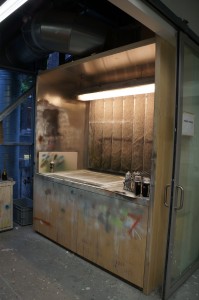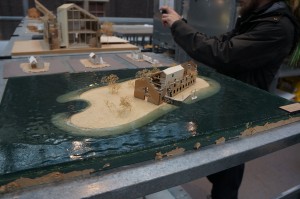 In a second tour of the studio and lecture spaces we were shown around by lecturer John Heintz. It was pleasing to see models in every conceivable space around the school during our two visits. One fascinating part of the school is an extensive collection of original classic chairs which are housed in a connecting corridor between the two main wings of the school.
Facilities include: Woodworking Machines, two CNC Routers, Spraying and Casting room, three Laser cutters, Powder Printer and an ABS Printer. Interestingly Hand tools are provided only on exchange of a students Driving Licence or Passport as deposit.