This 5th Year group have spent the last few days putting together a 1:500 site context model of the area they will be focussing on for their individual projects. The project is called Urban Spatial Experimentation or U.S.E. The site in question is the Albert's Shed on the River Irwell and the model will allow different proposal models to be placed in context as they are developed.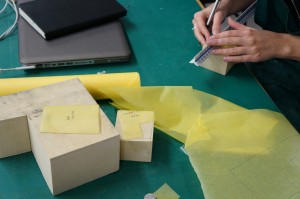 The model consists of several mixed media that are used to represent different aspects of the site. It was quickly decided that the offsite context buildings would be represented using jelutong block offcuts to reduce the cost and effectively put the massing of each building together. Building footprints were drawn out and placed on the block pieces which were then cut to height before being shaped and sanded to finish.
The main base of the model is made up using 2mm MDF which was laser cut and engraved to create the minimal contouring on the site and provide the relief from the river section which was added last as a piece of black acrylic.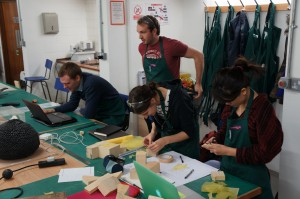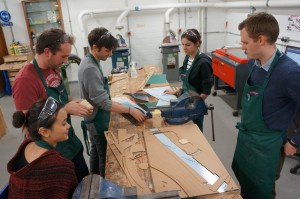 The group used small seed pods from a tree to represent the trees across site. This technique was used last year by several students and can be seen in this project by Laura Minca.
Here are a few pictures of the finished model below.