Just before the Christmas break I made a post about the benefits and importance of concious planning and material consideration when thinking about your models. Here is a great example carried out by a group of 3rd year students over the last few days.
This group set out to produce a contour model of a site they have been given to focus on for redevelopment. They took the time to approach us before starting to plan their model which resulted in a huge saving for them in cost and in the materials saved.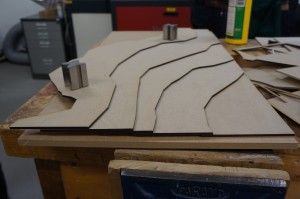 Rather than using entire sheets of MDF to build up contour layers We suggested they amend their drawing to construct the contours using the 'step' method. This means reducing each contour piece to a fraction of the full sheet size with the only non visible area being a small step to which the piece above can be fixed.
Out of the original materials estimate of 25 full 4mm x 800mm x 450mm sheets for the main contour section of the model the amended drawings helped to decrease this number to just 6.
At the current cost of £2.50 per sheet, the original cost of material for this part of the model would equate to £62.50. After redrawing the file and planning each cut sheet the 6 sheets required cost just £15. A huge saving of £47.50 and 19 full sheets of 4mm Medite MDF.
As you can see it is well worth taking the time to evaluate what it is you are producing and the necessary material required. A good place to start is with your tutors, Jim and myself who are dealing with this subject matter everyday.
Scott