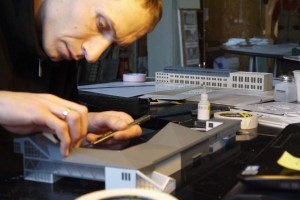 We were recently visited by the two Modelmakers from a company called Maquettica based in Riga, Latvia. Janis Strazdins, CEO and Lelde Strazdiņa senior Modelmaker at the company have recently travelled across the UK researching the commercial role of Architectural Modelmaking. As part of their trip they stopped by to view our exhibition and we gave them a tour of our facility.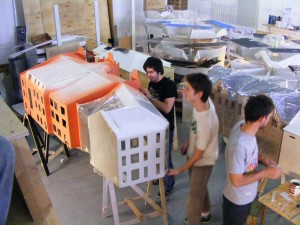 As we are always interested to understand how others work in the field of modelmaking we asked them to tell us their story.
As modelmakers we came intuitively.Janis made his first architectural model already at the age of 14, it was his parents house at country side and he did it just for fun.
 We both have an architectural education, but in Latvia there are no special programs or
studies for architectural modelmaking. At the university here the architectural models are just a need which you add to your project. We spent much more time than other students on model making because we enjoyed the process a lot and gradually we started to be more and more interested in this speciality.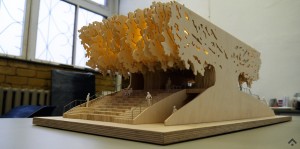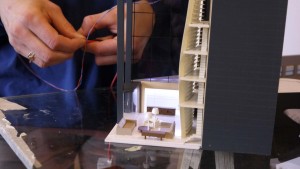 Logically we got our first orders, sometimes from other students, and very quickly our activity turned professional. Since then we still grow and develop our studio by digging and searching for the most appropriate materials, tools and equipment which allows us to work creatively, accurately and in high quality.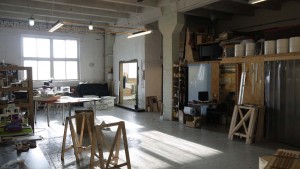 Our main occupation is realistic architectural models for marketing and presentation purposes and product prototype making, but unfortunately in our country the market is too small to survive only as modelmaking studio so we have added some more products and services that we are able to make with the equipment that we have for modelmaking.
We separated those other products from architectural models and put them all to 'Ouzel', a branch off company.
Ouzel is our idea visualization studio which provides design objects, museum exposition and unique interior elements, such as decorations, furniture elements, lighting objects, etc.
Generally our clients are real estate developers, architects, also architecture students and individuals.In some cases museums, specific companies (for example factories or adventure parks).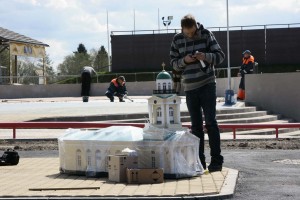 Architects usually need the models for presentation, usually when they participate in competitions. Real estate developers use very realistic scale models as a marketing instrument. They are made very precisely from technical drawings.Adventure parks, they also need realistic models, but the main purpose is to make them attractive.To receive all necessary information for model making we have created on-line inquiry form on our website, but mainly for a proposal it is enough to have territory plan, building plan, facades and some visualizations.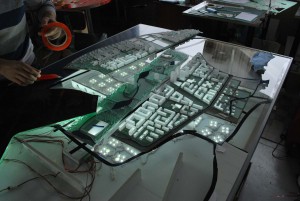 The B.15:45 exhibition we visited is one step closer to explaining to society why modelmaking is worth the effort and also what it takes (a lot of time, patience, enthusiasm, spatial and constructive perception, knowledges, materials, equipment, ..) to make an architectural model that works.
Your workshop is Latvian architecture students dream to have at University. The variety of materials, tools, equipment and possibility to ask enthusiastic professors for advice – these opportunities allow a student to work at their project more creatively, confidentlyand whilst having more fun. A student's activity in the workshop lets them feel the physical interaction – materials, shapes, light, .. which is impossible to get from a computer.
You can find out more about Maquettica on their website here. http://www.maquettica.eu/