Two weeks ago we had an unexpected visit from Mirko Avalos Henriquez- a Professional Modelmaker and Director of Maquette, Berlin who had read about our exhibition online. He was kind enough to write this review and in turn we asked for a description of his experience in Modelmaking for you to read about. Here it is: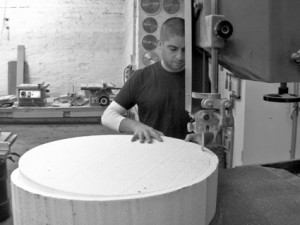 Often when I get asked what I do and I say that I am a model maker the response is usually along the lines of 'oh, you make those cute little houses'. Although this is mostly true, my main role as a model maker involves advising the architect on how best to present their idea through the medium of a model. Architects often know what they want their model to communicate but while they mainly design in 'real world' scale or 1:1, they often find it a challenge to visualize their ideas at a much smaller size. In this sense a model maker is not only a skilled craftsman but also a consultant, advising the architect on how best to present the vital information the architect wishes to communicate.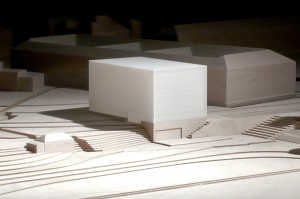 I have been working as a model maker based in Berlin for the past 7 years and have worked with architects from small yet highly successful buros such as Schultes Frank Architekten and Heike Hanada to larger more reknowned offices including David Chipperfield Architects and Nieto Sobejano Arquitectos. No matter how small or large a firm is, they will at some point need a model, either at the development stage of an idea or to exhibit a finished building as part of an exhibition. These could also be detailed presentation models where an architect may want to present their idea to a panel of investors, or a competition model, where the model will sit alongside 200 other candidates and must quickly communicate not only the overall look of the building or landscape, but also the concept behind the design.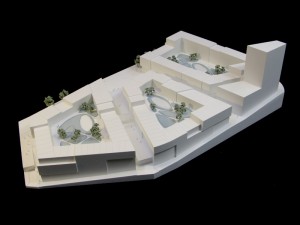 As a model maker, the greatest challenge is knowing what materials, colours and level of detail best represent what the architect is thinking, and how these elements combine to produce a model. To facilitate this process, learning how to use the tools and materials at your disposal is one of the most important components of being a model maker. Knowing what the limitations of a material or the capabilities of a certain machine are is of vital importance, allowing for a quicker way of working as well as a deeper understanding of what can realistically be achieved.
You can find out more about some of the great modelmaking projects Mirko has worked on past and present on his website here.