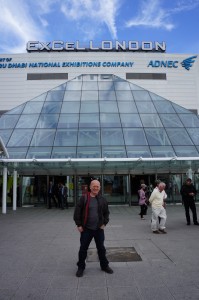 Yesterday myself and Jim travelled down to London to visit the Grand Designs Live show at ExCel. The show presents hundreds of suppliers from various design industries inspired by the hit TV series. Of particular interest to us was the use of models as sales pieces for show participants. This was not limited to scaled down architectural pieces but full size 1:1 constructions and prototype details. Throughout the day we were able to meet a variety of people and spread the word about the workshop, this blog and the courses we are involved with here in Manchester.
Several weeks ago we posted about the dwelle project that was completed in the workshop. This project was and continues to be very successful for dwelle in demonstrating the construction behind their eco house design. The model made a starring appearance at the show next to the Grand Theatre which hosts many design related lectures over 10 days.
As well as visiting ExCel we stopped by at the V & A to have a quick look at their Architecture gallery. The gallery features a good selection of model types and styles and is well worth a visit if you are in the area.