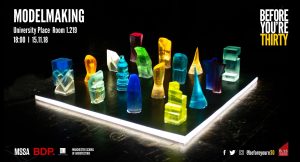 Each month the Manchester Student Society of Architecture (MSSA) host a night of guest lectures on a variety of themes relating the the field of Architecture and beyond. This years November theme was modelmaking and brought together three speakers to present their varied perspectives and experiences on the subject.
Despite the varied backgrounds of the speakers there were some strong common threads in the presentations that reinforced the strong pro-making feeling throughout. At all levels modelmaking was presented as an essential tactile tool for testing, presenting and soul searching/enriching when trying to better understand built forms, both large and small.
Thank you to MSSA for their work putting the event together and to the speakers who gave their time generously. Find out more about the MSSA here. Keep up to date with the Before You're 30 lecture series on their facebook page here.
Chaired by Scott Miller, the speakers were:
Armor Gutierrez Rivas – Founder and Leader of Atelier La Juntana Modelmaking Summer School, Architect at KPF Architects London & Tutor at the University of East London Find out more about Armor and Atelier La Juntana Here – More on next years collaboration with MSA will be announced soon.
Claudio Molina Camacho – Architect, Associate Lecturer for Masters Architecture + Urbanism & 2nd year BA Tutor at MSA. Find out more about Claudio here.
Sam Stone – MSA Graduate and Part 3 Architectural Assistant at T.P. Bennett Manchester. See some of Sams final year work here