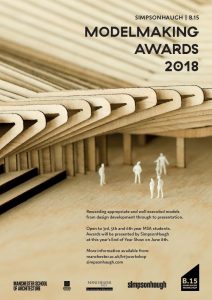 After whittling down over 40 long listed submissions we can announce the 20 students that have made it onto this years awards shortlist from 3rd year BA and MArch years 1 & 2. There will be 3 prizes for both groups.
---
BA Architecture
Jhower Emanuel Sanchez-Pinela
---
MArch
Mike Ellis & Jack Poulton
Rebekah Parkinson & Karissa Tysklind
Trevor Stevenson & Conor King
Sam Walters & Matthew Wreglesworth
Thank you to all who made the effort to submit their work to be considered- there are many great projects in the show this year which were discounted here out of necessity. Well done to you all and good luck to those who have made this list. Judging will take place this Friday and the winners will be presented at the official show opening – be sure to attend as well as the practice preview event on Thursday where SimpsonHaugh will be looking to recruit both Part 1 & 2 Students.
The complete SH B.15 Awards 2018 document with project descriptions and images can be viewed here.
Good Luck everyone,
Jim, Scott, Pip and on behalf of SimpsonHaugh, Kristin Mishra, Kaia Williams and Nick Flemming