We are very happy to announce this years student modelmaking awards will be sponsored by SimpsonHaugh. Following on from our previous successes with recognising modelmaking at MSA this year we hope to further push students to be confident of their ideas through modelmaking.
Awards are open to BA 3rd year and both 5th and 6th year of MArch and will be awarded as 1st, 2nd and 3rd prizes for BA & MArch MSA students.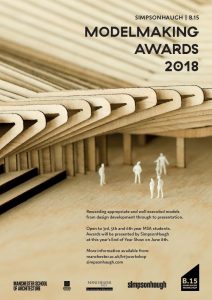 Kristin Mishra, Model shop manager at SimpsonHaugh:
"We're looking for students who demonstrate an understanding of the intrinsic link between drawings and models with appropriate use of scale and materials thus reflecting any architects need to think in both two and three dimensions.
Students should also address the factors that affect whether a model is made or not, build approach, time frame for delivery, and material costs.
At SimpsonHaugh we use physical models to explore and generate ideas, resolve and refine building proposals, communicate our design intent.  Models are especially useful in meetings and presentations. While sketch models quickly become obsolete, they document our design process – one approach didn't work, so we tried another. We aim to help students understand that a model doesn't have to be advanced to be of value. A simple model is as useful as a quick sketch, helping to understand three dimensional space in a way no other medium can."
With this in mind students should be aware that these awards are not given for just one output but for an individuals application and or execution of a model or models in conjunction with their other design work.
Candidates will be notified of their nominations in the coming months before a final shortlist is chosen. All awards will be judged and presented by by MSA and SimpsonHaugh at this years end of year show opening on June 8th.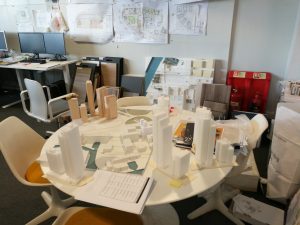 ---
Awards Launch open office event
To mark the official launch of this years awards in collaboration with SimpsonHaugh there will be an introduction and open office event taking place on March 20th at 17.00. There will be a short presentation about this years awards scheme followed by a chance to, see the office/workshop, ask questions and network with SH staff.
>>>>>    Click here to register your place at the event.    <<<<<
Entry to this event is strictly limited and exclusive to MSA.
Sign up early to ensure your place!
---
SimpsonHaugh at B.15
Over the coming months there will be a number of dates where Kristin Mishra, Modelshop Manager at SH will be present at the workshop to offer advice and observe work in progress. This is a great opportunity to speak to a modelmaker who can offer a wealth of experience from her years of modelmaking in practice so is not to be missed. These dates will be confirmed soon and posted to Moodle so be sure to take advantage.
Find out more about SimpsonHaugh here: www.simpsonhaugh.com/