Welcome back to the new academic year!
Over the next few weeks things will be picking up starting with the induction of all newcomers in 1st year followed by some returning and some new students in 5th year MArch.
The dates for these are Tuesday 19th & Wednesday 20th September for BA inductions, Thursday 28th September for MArch. During these days access to all other years will be restricted.
---
What's New at B.15 this year? 
OBJET 30PRO 3D Printer
Over the summer we have installed a new type of 3D printer called a Stratasys Objet30Pro. This machine uses thin layers (28 microns) of resin to build objects which are supported by a jelly-like support material. Advantages of this machine are the fine layering which offers higher resolution prints, the ability to produce models in clear resin and the water soluble support material which is removed safely using a water jet system. Unfortunately this comes at a cost and the resin/support used is pricey indeed! It will be some time before the full extent of this machines capabilities are understood for our use so bare with us whilst we learn with you.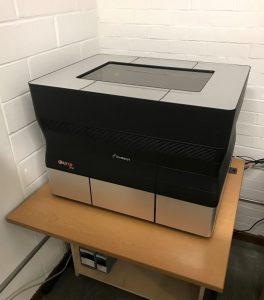 As with the other types of 3D printer the cost varies depending on the model. The exact cost in ml. of material to be confirmed but it's likely to be the most expensive of the 3D printing options we have in B.15.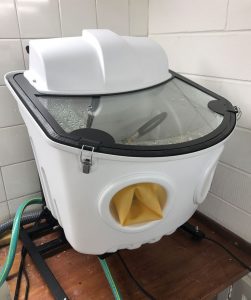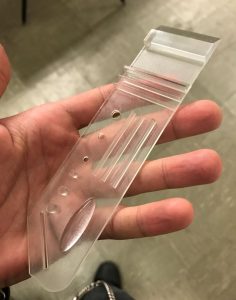 We intend to use this machine for specifically clear component requirements using Clear Resin called VeroClear. The outputs are clear but may require polishing to achieve a completely clear finish.
---
Reference Books
We have a few new additions to the B.15 reference Library as described below.
Model Perspectives: Structure, Architecture and Culture by Mark R. Cruvellier, Bjorn N. Sandaker and Luben Di, 2017
This brand new book presents a wide selection of case studies focussing in particular on structures and construction systems within building design. Each case study features a detailed overview essay and is accompanied by large prints of physical models that have been produced as part of each project. Some really great examples shown here – well worth a read.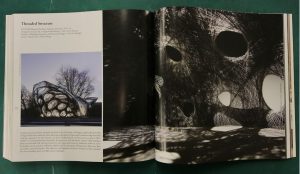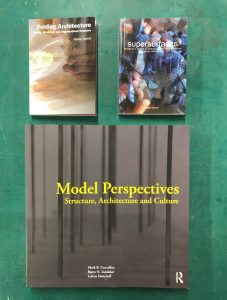 supersurfaces: Folding as a method of generating forms for architecture, products and fashion by Sophia Vyzoviti, 2006
Folding Architecture: Spatial, Structural and Organizational Diagrams by Sophia Vyzoviti, 2003
Both of these pocket books by Sophia Vyzoviti provide a theoretical introduction to folding in design before presenting examples of folding techniques as the outputs of physical 'paperfold' algorithms. All featured work comes from within the context of architectural education and thus provides a great benchmark selection of works from you to take inspiration from. Great source material to get you started making sketch models.
---
Workshop Merchandise
We have recently had some workshop merchandise made up due to popular demand which is available to purchase in the workshop using the same payment system as the materials store.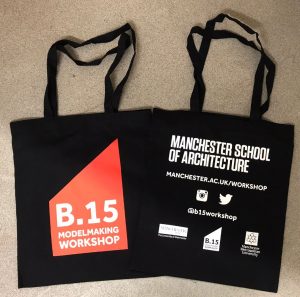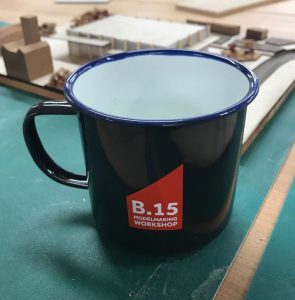 Cotton Tote Bags with B.15 and new MSA branding and enamelled steel mugs (No drinking in the workshop people!) featuring the B.15 Logo are for sale both at £6 each with all money going straight back to the materials budget. There also is a T-shirt in development which we hope to have available soon. More information on that soon.
---
Materials Stock and Online Store Payments
There is no change to the payment system for materials and service payments this year. The full up to date materials list can be found here along with the link to the online store. We'd also like to remind everyone that payments should only be made after the materials have been issued to you as stock is variable and some items may not be available. Whilst we make an effort to keep things fully stocked at all times this is sometimes not possible therefore please remember that the materials list is a guide for your model design not a guarantee it is in stock all the time.  Always come to the workshop and find either of us to enquire and make payments rather than  making them from elsewhere.
---
Upcoming Exhibition 
Following on from Atelier La Juntana Summer school back in July we hope to exhibit the work produced sometime in the coming months so look out for that happening. We'll post updates regarding that on here and moodle.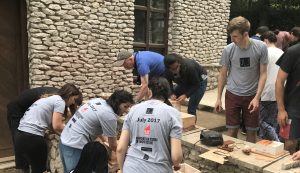 ---
Social media
If you haven't already don't forget to  follow us on Instagram and Twitter @b15workshop where we regularly promote student work and ongoings in the workshop.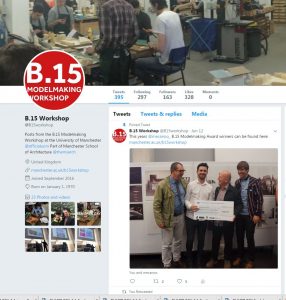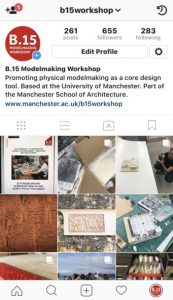 That's all for now, See you soon!
Scott & Jim