Hello all and welcome to an unusual new year at MSA/B.15!
We hope you're all keeping well and looking after yourselves wherever you are in the world. Back in March I'm not sure anybody could have predicted the situation we find ourselves in now but here we are. So what's new for this year?
General Access & Tutorial Process
Due to the restrictions on everybody right now there are a number of changes to how you can access our time and the resource on campus. We're still working on the best method to make this work but the general principle for starting work will be as follows.
When the time comes that you want to start making a model for your project and you'd like some advice these are the steps that you'll need to follow:
Request a remote tutorial. This is currently done via this form but we are looking at changing this in the near future.
After you are allocated a tutorial slot we will discuss your project ideas and determine if you need workshop access. If not we can continue to support you through further catch-up tutorials as requested.
If you do need to attend the workshop you will be directed to a video induction or two depending on your year group and if you are a returning student or new.
You will be allocated a date and time to attend the workshop to carry out your modelmaking tasks.
Further discussion or workshop time should be agreed remotely via email or video conferencing when additional times will be allocated as required.
Procedural changes that must be followed are explained in detail as part of the induction videos that you will be directed to.
Workshop access is strictly by appointment only to reduce social contact. You will not be allowed to enter or discuss projects with staff if you have not followed the above procedure to gain access.
---
Modelmaking at home
When the lockdown first came into force many people thought it meant an end to modelmaking for everyone. The thought never occurred to us and we set out to prove that if you want to use models in your work, no matter what your circumstance, we're here to help guide you to the best result we can whatever your circumstance.
Remember that we don't engage in the act of modelmaking exclusively for the interaction with machines, tools or equipment. We make models to explore our ideas in physical form and communicate the results. With that in mind you should have no reason to stop making. It's often very surprising what can be achieved using whatever you have to hand. I will be sharing a step by step guide soon showing how I made a facade model from soft modelling materials all from the comfort of my home dining table.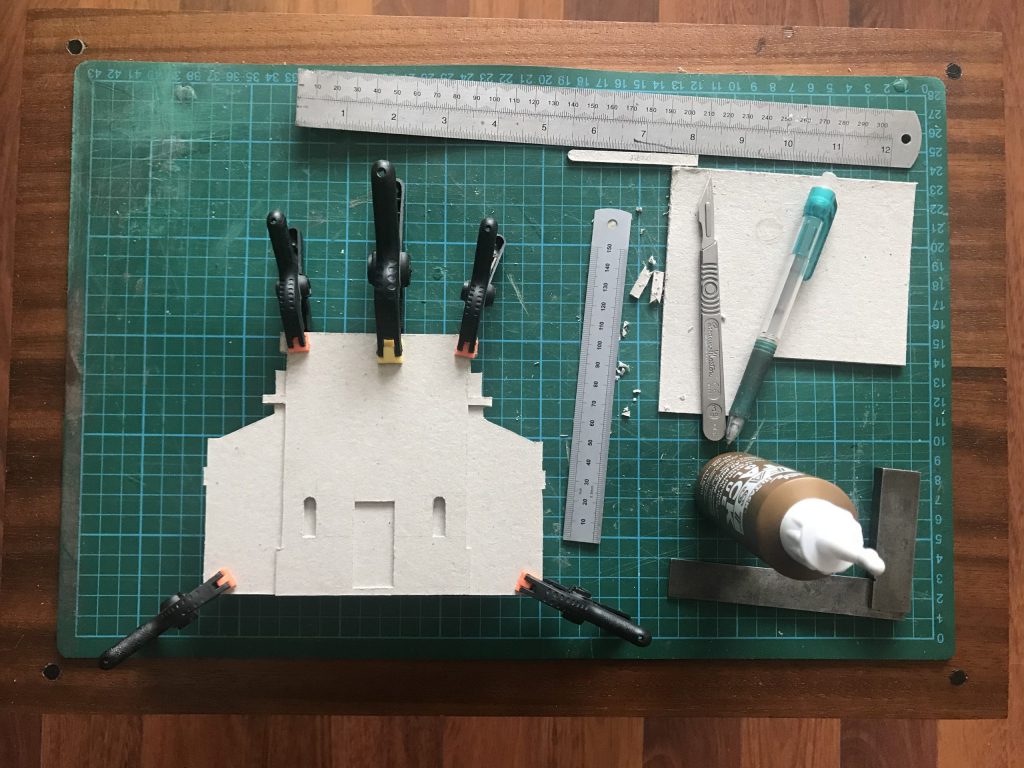 First years – Look out for a message from your head of year for your scalpel inductions! Following that you will be receiving tool kits to get you started over the coming weeks and we'll be happy to help you get going with your projects when we meet you in your first tutorials.
If you missed my intro video in induction week you can have a watch here:

---
If you want to see what can be achieved just look at the fantastic submissions that were put forward for the B.15 AT HOME awards back in June.
Staffing changes
Some of you may have seen via our social media that Jim Backhouse has decided to take a well deserved change of pace and has left as manager after 25 years! The fun that we've had over the years here is impossible to measure and it's going to be very strange without Jim around. We miss you already Jim.
That leaves me (Scott) and Saul to assist with your modelmaking needs for the foreseeable future which we'll be making every effort to support.
Over at MMU there is also new Tech+ team member Peter Powell who will be assisting with some of your studio projects.
---
Without a doubt things are going to take some getting used to but we want to assure you that we're here to support you with as much modelmaking support as we can offer.
Can't wait to meet/carry on working with you all again.
Welcome back!
Scott & Saul