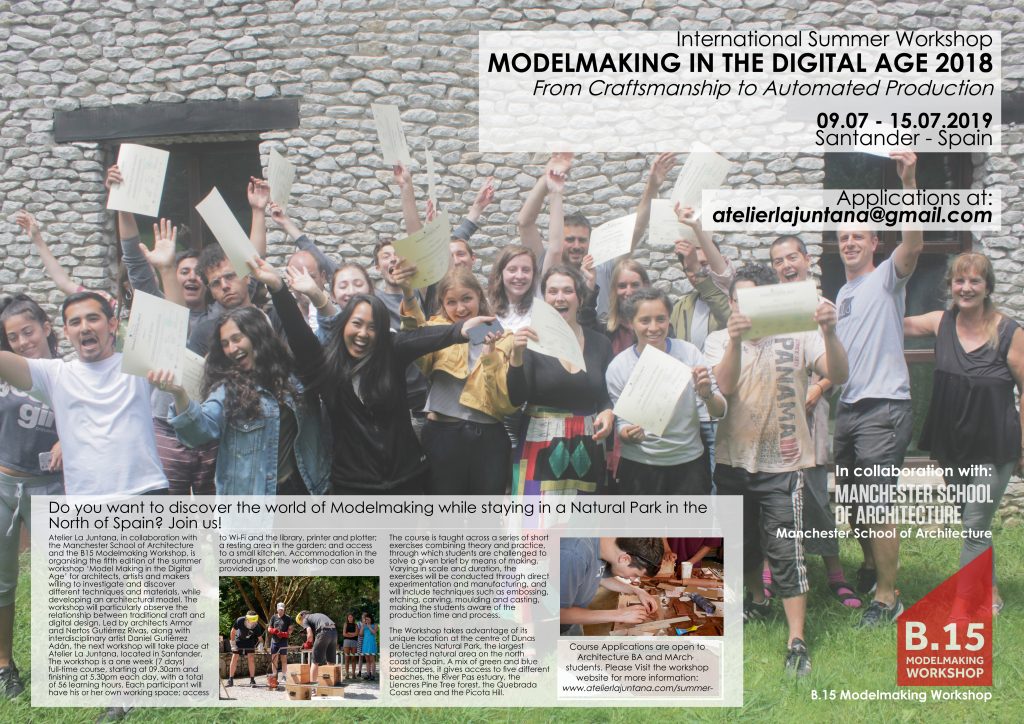 Following the success of the last two years of MSA collaborating with Atelier La Juntana we are pleased to announce the third edition of the MSA exclusive week taking place 9th – 15th July 2019. The course takes place in the north of Spain outside the city of Santander in the coastal town of Liencres.
Students of 1st, 2nd and 5th year Architecture are encouraged to take part in the week long course which provides a foundation in a wide range of making skills for your design and presentation work back here at MSA.
Watch footage for the last two MSA atelier groups here:
*********    DON'T MISS OUT – APPLY FOR 2019 NOW!    **********
MSA Students will pay the discounted rate of £425 for the full week long course and also have the option 8 nights of discounted accommodation. This fee may be further reduced  subject to extra sponsorship.
Fees Update: Funding from the student experience fund here at UoM has allowed a further discount to MSA applications which will be subsidised by at least £50. The exact amount will depend on the final number of attendees and will be applied after applications close. 
Apply here for more information about the 2019 MSA exclusive week:
atelierlajuntana@gmail.com
More information about the course can be found on the ALJ website here: http://www.atelierlajuntana.com/SummerWorkshop.html
Photo highlights from Atelier La Juntana with MSA 2018 are displayed below. Highlights from 2017 can be found by clicking here.