The development of the Dunham Massey Pavilions has been slowly progressing over the last two months with many different problems to overcome. Many of the original concepts have changed in scale and style whilst others have remained largely unchanged.
For Alexander Valakh and Lorena Chan the main problems have come from various material tolerances effect on their designs.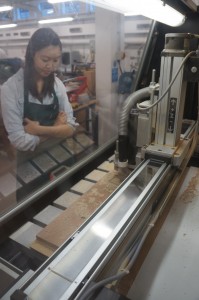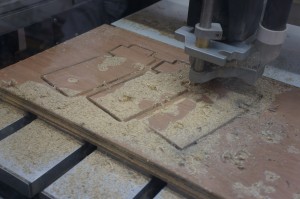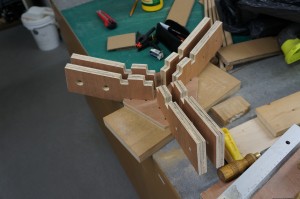 The group used the CNC router to cut plywood components for this phase of their design development. The original poppy concept that was made from cardboard and the riveted elements allowed a lot of flex. When applying the same ideas to a more durable and weather resistant material the same shapes could not be achieved. This is where 1:1 design development models come into use.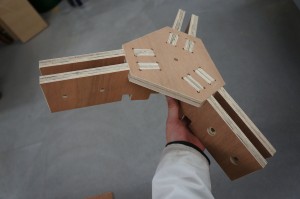 To test the strength of each joint for their revised design the group decided to risk lorenas life lorena to the task. Luckily their design proved successful and despite a few oversights in fixing elements which can easily be rectified, the group can move on.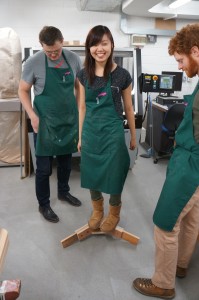 After the experimental first test in concrete casting, it was nesissary for this group to solve the issues of casting their numbers into each block. For their second attempt they tried using laser cut rubber components with a much smaller block to prevent material waste and save on weight. 
Any mould is always worth considering in depth as a badly designed one will cause you a world of problems when you come to remove your cast. This box was simple but constructed well to allow easy disassembly once the cast has cured.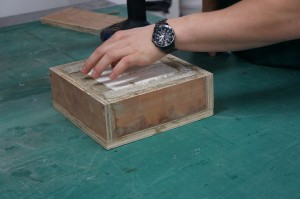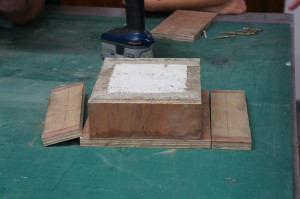 The finished block turned out well with the flex in the rubber numbers allowing for the expansion of the concrete as it sets. Laser cutting this material can prove time consuming and the number required may need to be outsourced due to demand on our machines from all Architecture Students. It is always worth considering outsourcing elements that need to be mass produced as if you are involved in a 'real world' project. Costs can often be lower and experienced companies will be able to offer you more specific advice on what you are trying to achieve at 1:1. We'll be posting more on these project in the near future!