Much like the brief set this time last year students are currently in the concept stages of designing a series of pavilions to be constructed at 1:1 at Dunahm Massey (Read our blog post here). This project was challenging for both staff and students last year and really pushed the boundaries of what the workshops can handle.
This year the project is aiming to be more refined and, with support of workshop staff, come to an effective and 'speed-bump' free conclusion!
Alexander Valakh (Below) is working on several sketch models to help convey his project named 'The Shadow of War' to tutors in the hope it will be taken to the next stage of development.
To test his theory for eventual 1:1 construction Alex had produced a plywood sketch model in identical fashion to the full size proposal on our CNC. Producing this model has allowed Alex to explore problems he may encounter whilst using this method and has already identified several areas that will need more thought. These issues are not a hindrance to the design process but feed into it and shouldn't be seen as a waste of time. problem solving through trial and error models are often the best way of refining a design for production.
This group is also producing another concept pavilion using paper to create the sketch model. The flower-like components are created and joined using pop rivets which will eventually form a curved canopy.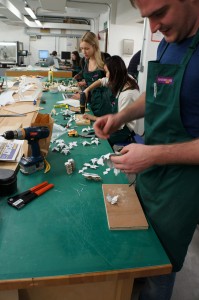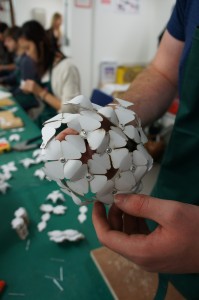 Another (!) concept from the same group involves casting concrete blocks as part of a wall sculpture. This is part of the same brief but is less interactive due to the nature of the proposed site. This was poured yesterday afternoon and is still setting so we'll hopefully have some more pictures of how that is progressing by the end of the week.