As some of you may have noticed we have added an extra 'E' to our name due to the merge with the School of Education. Our full name is now the School of Environment, Education and Development or SEED.
Busy summer
Over the summer we have been busy co-writing a second edition to the highly acclaimed book 'Architectural Modelmaking' by Nick Dunn. We expect the book to be published sometime next year and should prove very useful for existing and new students of architecture. We'll post more on this when we can!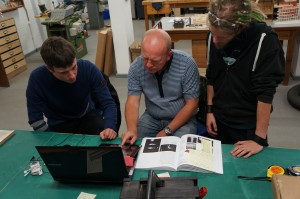 This had kept us productive along with a materials re-stock and clear out in preparation for your return. We hope to stock some new acrylic thicknesses in the next few weeks. Up to date materials price lists are now up in the workshop and can also be checked here on the blog.
Up-front payment for laser cutting
From now on we will only be allowing students to book laser cutting slots if they have paid. This change is being implemented to reduce the number of no-shows that occurs during busy periods which led to many hours cutting time being wasted last term.
New Full-Time Workshop Technician 
The workshop now has an additional member of staff as Scott Miller has now been made a full-time member of the technical team. Some of you may have met Scott last year when he worked with us on a casual basis. Scott is a very accomplished model maker and will be happy to help with any of your model making requirements.