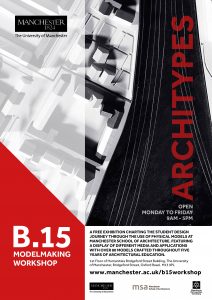 We are very pleased to announce a new modelmaking exhibition of student projects opening September 2016: 'B.15: ARCHITYPES'
The exhibition charts the different applications of modelmaking used by students of Architecture at the Manchester School of Architecture acting as a point of reference and inspiration in the subject.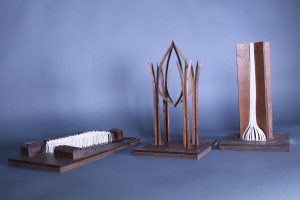 Featuring over 80 pieces of varied types and styles from across 5 years of education. The display is supported by a brand new guidebook describing the projects material make-up and context.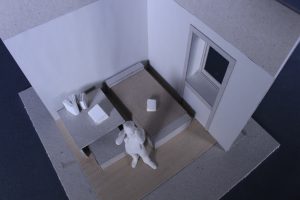 ---
Private View Opening
The exhibition will be opened with a private view on Friday 16th September from 17.30 onward. Dr Raymond Lucas will be present to officially mark the opening with a short introduction. This event is free for all so please come and join us in celebration of the subject there will be refreshments provided.
The exhibition will then be open 9.00 – 16.30 Monday to Friday.
Please contact us if you require any further information: scott.miller@manchester.ac.uk
Hope to see you there!
Jim & Scott