Will recently completed this working site model of an area of Bollington made from a CNC routed block of Mahogany. Once the CNC job was completed will spend several hours hand finishing details such as the building footprints and road details.
It's worth considering this aspect when using the CNC route for a wooden model. Even though the bulk of material is removed with the machine there is usually a considerable amount of finishing to be factored in.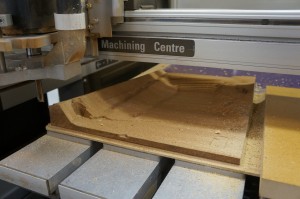 "I required a site model to make massing and programme arrangement decisions in relation to the topography and trees on the site. I chose to use the CNC machine because unlike the laser cutter, it allowed me to get smooth contours at the 1:500 scale and as a result decisions could be made at the smaller scale.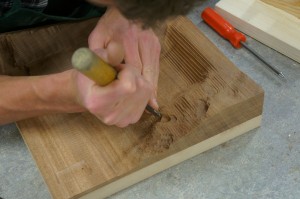 It required considerable sanding to remove the CNC excavation lines. For this is started with a low grit sand paper slow working my way up to a fine grit. I used mahogany because it is a hardwood with an attractive grain which gave the model a material connection to the actual wooded site.
The trees were an experiment in process. I wanted to recreate the densely wooded appearance on the site with varied tree types. For this I used a variety of modelling trees, brass wire and pieces of bush."  Will Priest 2016