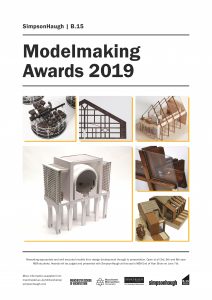 This year we have received a record 65 applications for the SimpsonHaugh B.15 Modelmaking Awards across the BA3 and MArch cohorts of MSA. The quality of these applications has been of a high standard making the collective task extremely difficult to whittle down the number to a shortlist of 8 for BA3 and 8 for MArch.
We want to congratulate everybody who submitted this year making this a difficult process for all involved. The quality of the work overall has been fantastic and helps make this years show a great success.
In no particular order the shortlsited candidates are:
BA 
Callum Richardson
Cameron Frame
Emily Edwards
Faizal Akalwaya
Hayley Sheldon
Harry Tate
Max King
Ana Mayte Alvarado
 MArch
Courtnay Ives & Yiting Zhou
Sean Martin
Maciej Augustynowicz
Nicholas Royce
Sandhya Parekh
Charlotte Hagerty
Lobna Elagouz
Andrew Chung
View the submissions that made the shortlist here:
Final judging will take place tomorrow and the winners will be announced at 18.00 approx during the private view.
Best of luck to all and thank you all for getting involved and making this awards scheme such a great success,
Scott, Jim & Saul @B15workshop