One of the most common projects students are asked to produce is a master plan model of a chosen site of study. These projects are predominantly but not exclusively set as group projects.
The model will include the extent of the chosen site and a variable amount of content depending on its purpose. Examples of purpose are:
Complete massing of each structure within the site



Selected features of a specific set of structures perhaps defined by purpose.

 
Complete or partial topographic representation.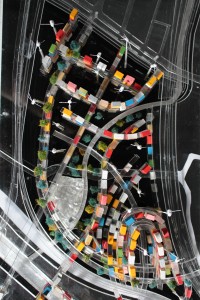 Why do we make masterplan models?
Masterplans comprise a complete set of data on a site. The depth and scope of the data can vary from complete to selected types dependent on their purpose. In drawing form this data is often used as the 'benchmark' for subcontracted planning and eventual building of projects.

As a model the viewer is given a third dimension to the arrangement of a site. Building forms, types and positioning can be viewed from an instantaneous and variable perspective chosen by the viewers. For this reason the master plan is chosen as the centre piece of many projects and when used to full advantage can be modified by design as projects develop. This in turn provides a constant point of context reference in group discussions and individual presentations about the site.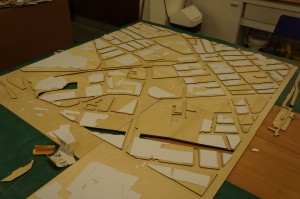 Tips for Masterplan Modelling
APPROPRIATE SCALE. As with all Modelmaking tasks the first major consideration should be the required scale for your model. This may be defined by your brief but can also be left to your discretion. Ensuring the scale is appropriate for your project is critical for both the time concerned and potential expense of the model so take time to think about what needs to be shown. Consider existing map scales you have access to such as 1:1000 or 1:1250.
CONSTRUCTION METHOD. A common solution for the representation of contouring is with material that is layered up using survey topography lines. Deciding on an appropriate method for such elements is a key consideration. A previous article covers the 'stepping' method when using thick or large amounts of material and can save on cost and waste. Please take the time to read the post here.
STANDARD LEVEL OF DETAIL. Group projects need to consider this point especially in order to identify a standard to be attained by all participating members.
One of the main reasons master plan models can come across as messy or rushed is due to an inconsistent level of detail. The rule for detail is circumstantial and really up to the maker but production time for fine details should always be considered alongside what is required to make the model an effective tool. Consistency makes for the best presentation.

 DIVISION OF LABOUR. On projects consisting of tens to hundreds of individual building representations it is crucial to split the site into areas so that sub groups or individuals can work on specified sections.  This helps to work through the project systematically, with time efficiency and avoids any unnecessary duplicates being made by other group members.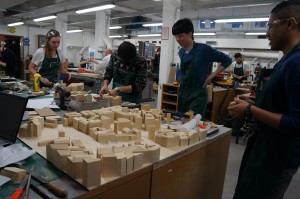 We hope these pointers help to get you started with your projects but as always feel free to come and consult with us in person if you are unsure.