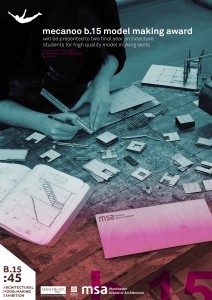 We are very pleased to announce in conjunction with our 45th year celebrations a new award for outstanding modelmaking at MSA.
The award will be sponsored by award winning architects Mecanoo who have recently expanded their offices to include a new Manchester branch.
"Model making is integral to the design process at our headquarters in Delft and we place a great deal of value in students who can demonstrate a love for the physical crafting and communication of space in architecture, landscape architecture, and urban design.
As such, Mecanoo is proud to sponsor an award which recognises high quality model making skills at Manchester School of Architecture – a school in a city which has become our UK home. We hope that this prize will encourage final year students to push that little bit harder to make their models as experimental, pragmatic (and beautiful) as possible!"
Francesco Veenstra (partner in charge of UK projects)
---
The Awards
Two prizes will be awarded with one for BA 3rd Year students and one for 6th Year MArch Students. Prizes will be awarded at the end of year show on June 12th.
Representatives from Mecanoo will be in attendance and along with UoM and MSA staff will judge the winners.
In addition to the award for your portfolio, sponsorship from Mecanoo and ourselves will provide a cash prize of £500 per winner.
Models will be judged on their overall quality, choice of scale, material choices, chosen methods and the models effectiveness at conveying your design features.
We hope this gives you more of an incentive to think about your modelmaking skills and strive to improve on the great results we have already seen this year!
Good luck!
Jim and Scott at B.15