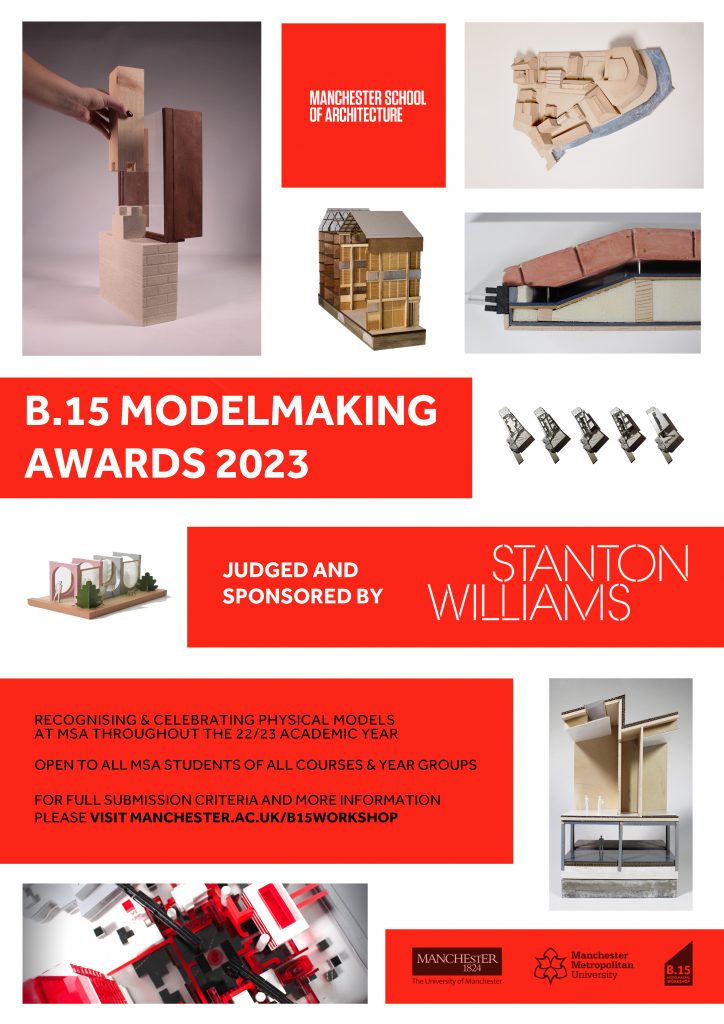 This year we're pleased to announce that we will be joined by representatives from Stanton Williams who will be judging and sponsoring this years B.15 Modelmaking Awards for MSA students.
"We are thrilled to announce that Stanton Williams will be working with B.15 and the MSA to judge the Model Making Awards 2023. Exploring ideas through making is key to our design process. Working with sketches, three-dimensional physical models and full-scale prototypes, we encourage an open exchange of ideas, particularly in the early stages of a project, when the brief can be challenged and aspirations explored. We are excited to see how students will use this powerful design tool and look forward to the conversations their submissions will spark."
– Stephen Setford & Maz Weineck at Stanton Williams
Find out more about Stanton Williams here.
What are the awards? 
There are 4 equal awards given to students of any course and any year group at MSA. They are judged on a mix of reasoning, skill and final product and it's important to note, no single criteria – all models are of interest. The award recognises the use of modelmaking in your design work for the 22/23 academic year and consists of a cash prize and other items.
What are we looking for? 
Any individual or group projects from the 22/23 academic year where modelmaking has been used to explore, develop or present your studio work, whatever it is and whatever it is made from, if it's a model that helped you tell the story of your project it's worthy of submission! Shortlisting will look for originality, build quality, materials choice and overall execution to make a decision on the final candidates.
What to you need to do and when?
Submissions must follow the format as provided in the InDesign template that you can download below. You must stick to the formatting of this page to maintain consistency in the submissions document. That includes the font which is also included in the download link following the criteria below. You can see examples of past submissions here. 
Please stick to the guidelines and formatting to avoid having to make later corrections.
All submissions must be sent to scott.miller@manchester.ac.uk no later than 12.00 on June 9th..
---
Submission Criteria
• Maximum 350 Words in the main body of text explaining:
a) Your project in brief, What was the purpose of your model(s)?
b) Your use of modelmaking at home/the workshop: scale, material and processes that you have used and why.
• Place 3 to 6 images of your modelmaking work (over the 2 pages) in its completed state these can include process images. Use captions to explain image content as shown in the example document.
• Models may have been completed from home, on campus, or a mix of both. Please clearly explain this whatever the case.
• Titles should be formatted as per the example. The main Text should be in Effra Font Size 10 (file included in the pack below if you don't have it on your computer)
• 2 x Portrait A4 pages only
• Saved as a 2 Page PDF
If your submission does not conform to these guidelines it will not be included in the final document for judging.
Please submit your work by downloading this pack (Contains InDesign Template, Fonts and Example submission)
All submission must be received by 12.00 on Friday June 9th.
Send your submissions to scott.miller@manchester.ac.uk 
Projects will be shortlisted by Stanton Williams and announced by the end of June 13th.
Work will be judged in person on June 16th and the resulting award winners will be announced with other school prizes at the End of Year Show on the evening on June 16th.
---
Some FAQWhat if my work isn't on show? Please get in touch with us. We hope to display all entries that are shortlisted but not scheduled to feature in the end of year show at B.15 for judges to view when they visit during the week of June 12th.
I didn't use the workshop to make my model can I still submit? YES – this is an award for good use of modelmaking not exclusively about models made in workshops.I don't think my work is good enough should I submit? YES – all modelmaking work submitted will be included in a combined document for Judges to see and for prospective employers and professionals to view via our blog. It can't hurt to show off your hard work alongside your fellow course-mates and may lead to a job!I haven't done a 'final model', should I submit? YES – the awards are not about final models exclusively but consider the use of all kinds of models for all stages of your projects.I have more than one model, can I submit them all? YES – many submissions are made up of multiple models (see previous submissions) so please feel free to include multiple models and describe them in your accompanying text. They must however be under one submission only. Do not submit each model as a separate submission. What if I'm in a group and we both want to submit? Group projects can submit as one and will be considered as a single submission. If a group wins then the prize will be split accordingly.
---
Best of luck with your submissions and the show build.
On behalf of Stanton Williams and the B.15 team, we look forward to seeing your submissions!