**********************CHANGE OF TIME AND VENUE*********************
NOW AT 18:00 IN THE CORDINGLEY LECTURE THEATRE, HUMANITIES BRIDGEFORD STREET BUILDING
****************************************************************************************************
2020 will mark 50 years since the B.15 workshop was established here in what was then known as the Kantorowich Architecture and Planning Building. To celebrate the occasion we will be holding a number of events the first of which we are pleased to present to you here.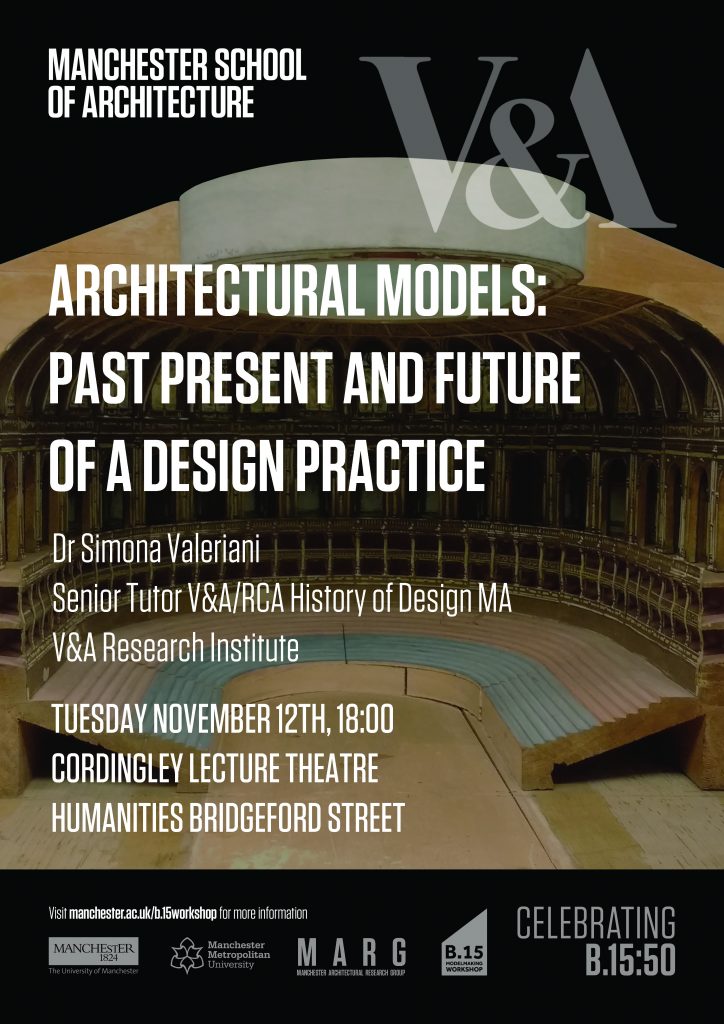 'Architectural Models: Past Present and Future of a Design Practice' will be presented by Dr Simona Valeriani on behalf of the Architectural Models Network, a research network based at the Victoria and Albert Museum. "The network was set up to bring together all those interested in the history, current practice and future of architectural model-making. Its intention is to share knowledge, to take stock of the current state of the field, and to identify productive areas for future practice and research." (Valeriani, 2018)
Dr Valeriani will present the up to date findings of the network which began recording a range of perspectives on architectural modelmaking in early 2018.
Please join us for this free lecture at 18.00 on Tuesday 12th November in the Cordingley Lecture Theatre on the ground floor of Humanities Bridgeford Street. 
The presentation and Q & A will last no longer than 1 hour. No ticket required.
We hope to see you there, Scott, Jim & Saul
Valeriani, S. 2018. Architectural Models in context: creativity, skill and spectacle [Online Article] Available from: https://www.vam.ac.uk/blog/projects/architectural-models-in-context-creativity-skill-and-spectacle Accessed 22/10/2019