Welcome back to a new academic year at B.15 new starters and returning students.
We've made a few changes over the summer to our user rules which we will be rolling out to all newly inducted students this year. For those of you returning you'll get used to the changes as you get on with your projects over the coming months.
Upcoming Induction Closure Dates
BA Inductions – Tuesday 17th & Wednesday 18th September
MArch Inductions – Tuesday 24th & Wednesday 25th September
**** UPDATES****
****The workshop will be closed on Wednesday October 2nd.
**** MArch Catch-Up induction will take place on the morning of 7th October.
**** BA Q & A session will take place on the morning of 9th October.
**** BA Catch-Up Inductions will take place on the morning of 10th October.
**** MA Architecture and Urbanism Inductions will take place on the morning of 25th October
For the initial days a rep from 4D Modelshop will be set up in our ARCHITYPES exhibition (1st floor HBS building) to present their latest products and answer any questions you may have. There will also be a period of free delivery to B.15 if you wish to buy and tools or materials from them.
Induction catch-up dates will be posted when confirmed but please attend your allotted session to avoid as much disruption to the general workshop access over the next few weeks.
Whats new?
As many of you know we are usually running around trying to manage work space within the workshop at peak times. The rules for 20 students at once remains the same as before. We believe that the best way we can improve this experience for all users is for each of you to carefully consider how you are using modelmaking in your design work. Please take to time to read through our General Users Guide (updated for this year) to familiarise yourself with the general rules and regulations here to get the most out of your time.
With the new MMU School of Digital Arts under construction the most direct route between Chatham and us in Humanities is currently blocked. For those unfamiliar with the main MSA locations refer to this map to see the main alternative route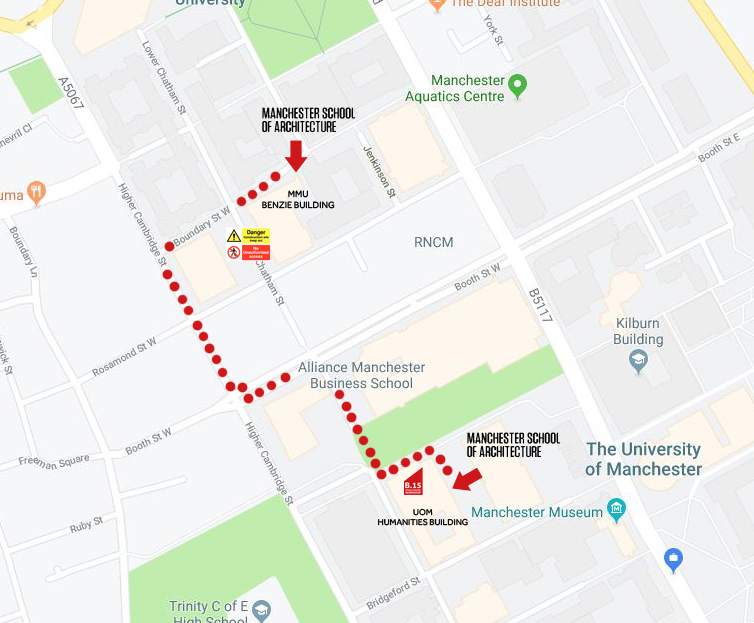 Standard Operating Procedures
Around the workshop you'll now find Standard Operating Procedures for all machines which give an over view to what you should and shouldn't do when using them. These guides are as a reminder only and do not substitute an individual induction which is mandatory for all students coming to work at the workshop. As always, please ask us before starting or if you are unsure about anything in the workshop. The SOP's follow a standard format and look like this: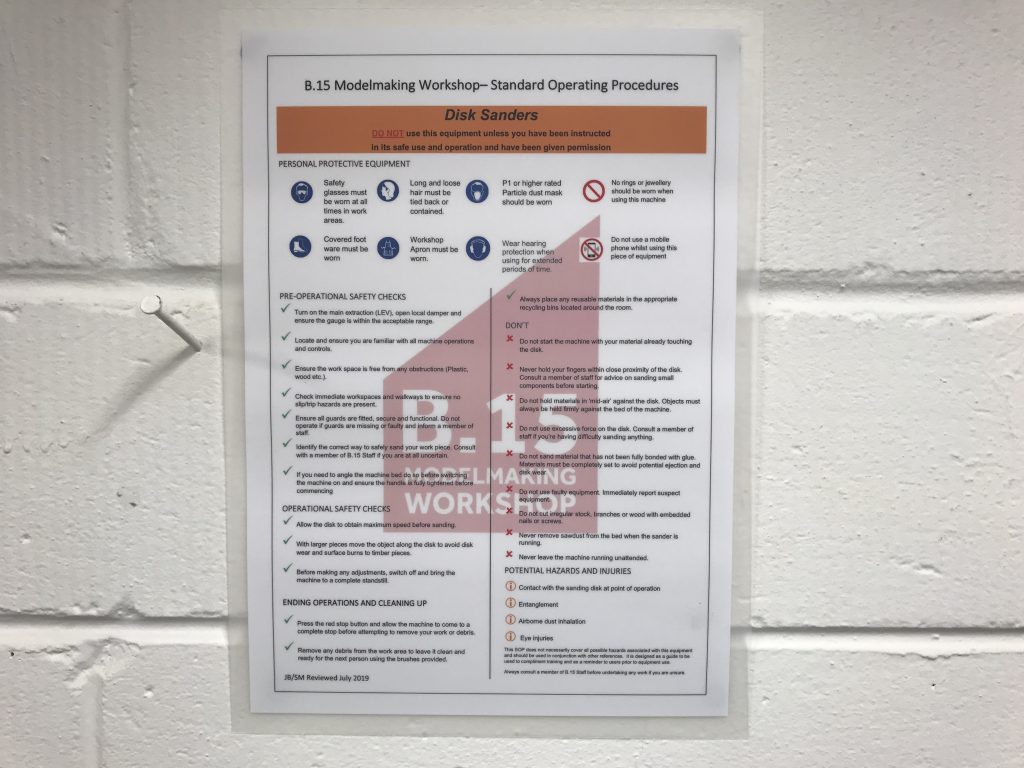 New Local Exhaust Ventilation (LEV) gauges 
When using any of the sanders or band saws you must now make sure you open the LEV dampers and that the dust extraction is within the approved range on the localised air flow gauge. Each gauge shows a green range which is the approved air flow range to ensure as much of the dust produced during machine use is carried away from you, the user, as possible. We'll show you how these work in person but be aware that if you want to use these machines you will be expected to check this is functioning within range before commencing your job.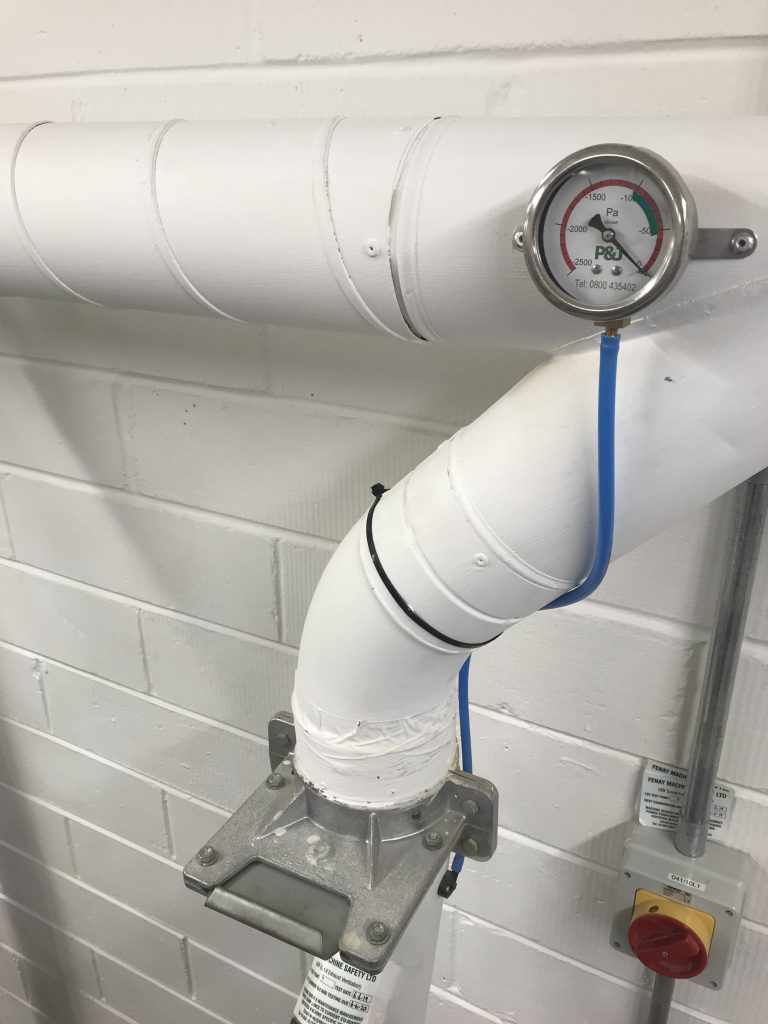 B.15 Going Green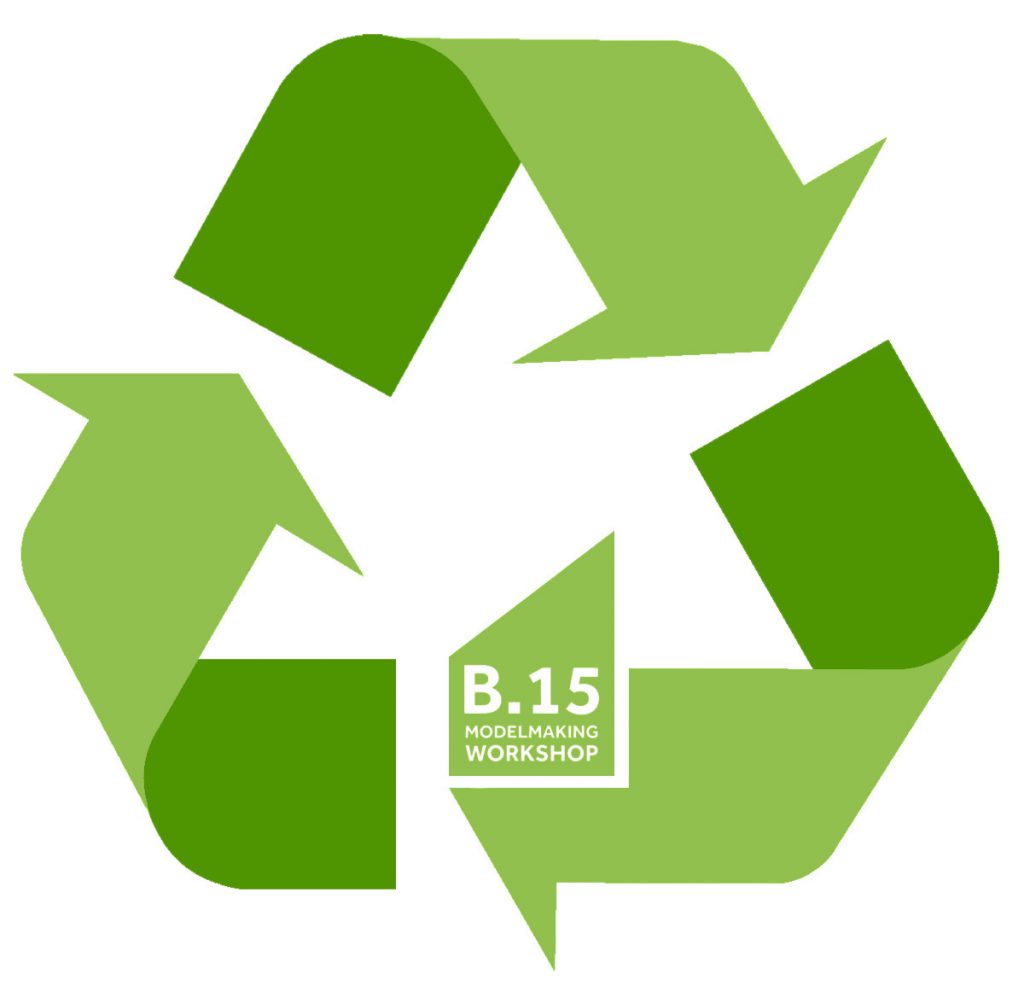 As you may have read with increasingly regularity, there is a pressing need for all of us to change our consuming habits to ensure the best state of our future environment. Our existence as a modelmaking workshop makes this particularly challenging to combat due to the number of different materials and choices we make when using different products. We will be making a conscious effort to police misuse of materials and ensure as much of our waste is recycled as possible.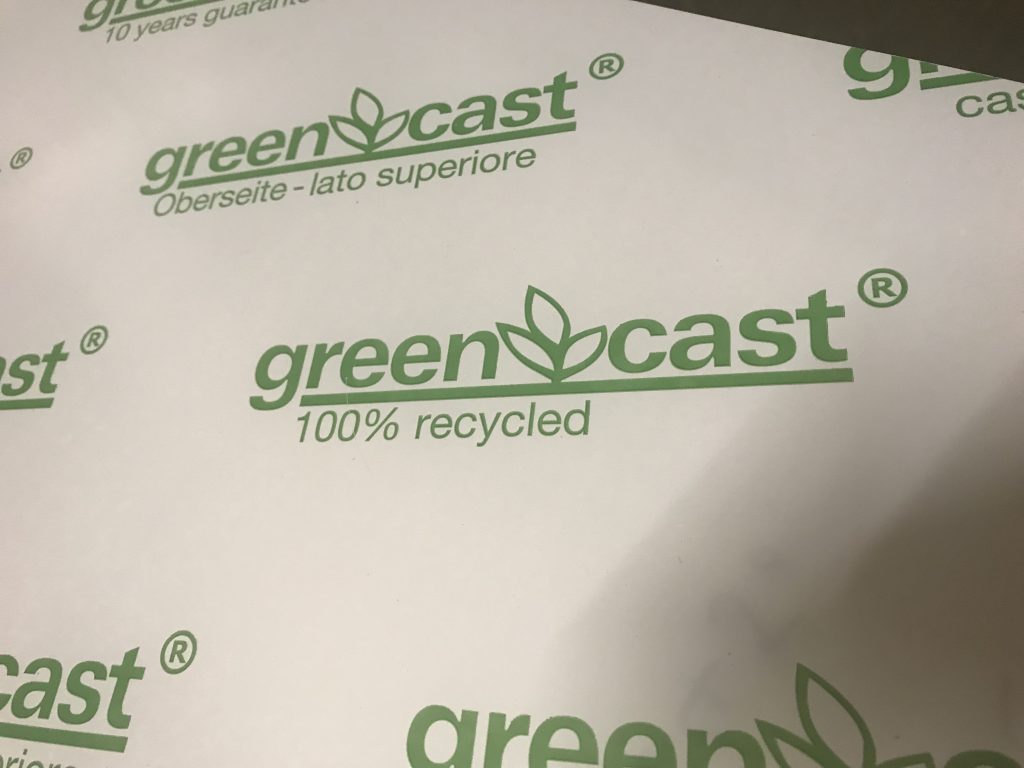 We have introduced a new supplier for our acrylic stocks which allow us to stock 'GreenCast' 100% recycled acrylic. As we run down our older stocks we will move towards only stocking this product from now onward. In addition to this we now have a recycling bin for acrylic scraps that are of no further use. This will be periodically sent off for recycling.
Many of you have become accustomed to using spirit wood dyes in the workshop which offer a range of colours that have proved very popular over the last few years. These dyes, being spirit based, aren't particularly environmentally friendly so going forward we will be moving to stock palette water based dyes instead which offer the same range of colours without the environmental risks.
B.15:50
2020 marks 50 years since the workshop came into being and to mark this landmark anniversary we will be holding a number of events throughout the year which we hope to reveal in the near future.
We hope you'll get involved to celebrate with us throughout the year!
See you soon,
Jim, Scott & Saul