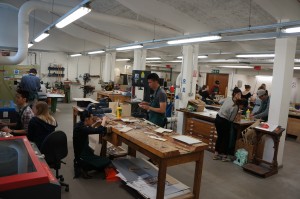 Due to high demand on the facility we have been able to agree later opening hours for a trial period of 3 weeks starting May 11th and ending May 28th.
The workshop will remain open Monday -Thursday until 19.30 when students will be asked to clean up your workspace as normal in preparation for the following day. These temporary opening times are as follows:
Monday 09.30 – 19.30
Tuesday 09.30 – 19.30
Wednesday 09.30 – 19.30
Thursday 09.30 – 19.30
Friday 09.30 – 16.30
This time is in addition to our normal working day (09.30 – 16.30) and therefore does not mean you should turn up any later than normal. If this period is found to be ineffective at reducing the stress on the facility it is unlikely we will be doing it again so please make the most of the time.
So far this year there have been some great models produced and we hope the next few weeks will see some more great results. Make the most of it!
Scott and Jim