Hi everyone!
Apologies for that lack of recent updates. We have been very busy researching, designing and building the upcoming B.15:45 Modelmaking Exhibition for September.
We can now be almost 100% sure that the exhibition will be opening on the evening of Friday 12th September 2014 – This will be confirmed very soon and we will be sure to post full details on here.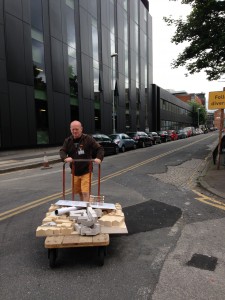 We have been able to gather a fantastic array of projects from the schools most recent exhibition as well as other more historic examples presenting a great range. If you haven't already we encourage you to share this link to help us get even more responses for our survey and record a more complete history of the workshop through peoples accounts.
https://selectsurveys.humanities.manchester.ac.uk/TakeSurvey.aspx?SurveyID=92MH6l42
Every view is valuable to us so don't hesitate to add your own!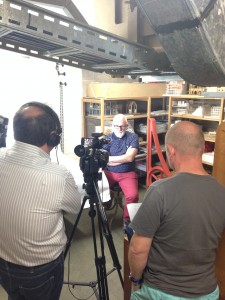 Today we conducted the first of an upcoming series of video interviews on the role of Architectural Modelmaking and the history of our workshop. We spoke to MSA Lecturer Eamonn Canniffe who first began working at the school in 1986. He gave his perspective on how the use of models has influenced architectural design for students up to it's current role as well as informing us of the role his study models of classic 20th Century Architecture with students played.
This interview along with several others will be edited to help us tell the story of modelmaking in our exhibition. Complete individual interviews will also be posted over a period of time to hear more accounts of modelmaking and workshop life at the school over the past 45 years – B.15:TV is born!
More updates soon!
Scott