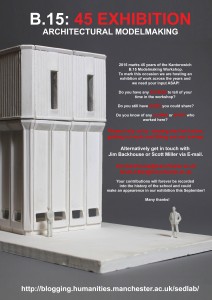 2015 will mark 45 years since the B.15 workshop opened its doors to students. To mark this occasion we have decided to produce a retrospective exhibition to tell the story of those years and give an insight to the changes that have occurred here in terms of approaches to making and design.
Please help us tell the story by adding some of your memories and experiences in this survey. Any stories, models or photographs of your time here will prove of value in recording our history so please take a few minuets to add your part!
https://selectsurveys.humanities.manchester.ac.uk/TakeSurvey.aspx?SurveyID=92MH6l42
The exhibition will most likely run for a period of 6-8 months from September and could feature some of your work! Please share this link with any groups or alumni that are related to the school.
Many thanks for all of your support so far!
Scott and Jim