We have spent today installing and training on our new Hobarts laser machine. The second laser cutter is a refined version of our existing one, cutting to the same parameters (800mm x 450mm). This machine requires exactly the same drawing set up as described on our set-up page.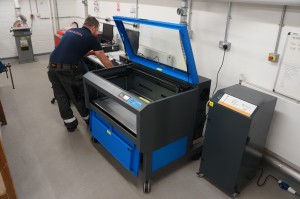 Each laser machine has a separate booking sheet which can only be used when approved by staff.
With this new machine commissioned we are enforcing a complete no pay – no use policy. 
You will only be able to book a slot on a machine if payment is made and signed off by either myself or Jim.
You can not add your name to the list and pay later!
We only accept voucher payments – no cash or student cards. Vouchers can be purchased from the A4 & More Store in Chatham.
A cutting slot is £10 per hour with any jobs running up to or less than 30 mins being refunded £5.
See you soon!
Scott and Jim